|

Proposal for Thermo-chiller used with Resistance Welding Machines

Have you experienced any of the following problems?


Ground water
Since the water is too cold, dew condensation occurs in summer.


Cause of failures!


Ground water
Algae grow and adhere to the inside of welding machines.


Cause of failures!


Tap water
High tap water costs (running costs)!



Radiator type circulation systems and cooling towers
Water temperature increases in summer.


Quality deteriorates and shortens life of tips!

Ground water
Set to 20 to 25°C


Cools without condensation.
Stable water quality without foreign objects from the chiller.
Prevents the growth of algae by periodic replacement of water.


Cooling towers
Water temperature remains stable even in summer.


Extends the life of tips.Reduces maintenance requirements!
Even in poor surrounding environments, since the product is sealed,it is not affected by dust etc.


Tap water
Circulates the water in the tank.


Greatly reduces running costs.


Radiator type circulation systems
The stable water temperature, even during the summer, improves tip life and operability.
Wear particulate-free HRS series (Standard) does not require maintenance.


Difference between chiller and radiator type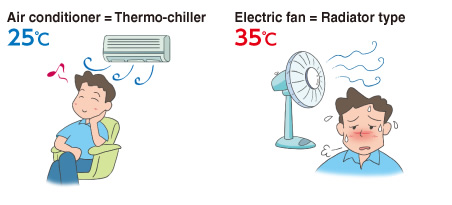 The radiator type is not equipped with a compressor, and the circulating water is cooled by a fan. Therefore, the temperature cannot be reduced below the ambient temperature. For this reason, the water temperature differs by season.


Cooling locations
AC: Electrodes (upper/lower), transformer (built-in)
DC: Electrodes (upper/lower), transformer (built-in), transistor (thyristor)