|

Proposal for Thermo-chiller used with Arc Welding Machines (Water-cooled)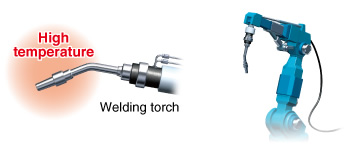 Solves problems caused by insufficient cooling of "welding torches."
When a welding torch reaches a high temperature,
various problems may arise.
Have you experienced any of the following problems?
Effects of rising torch temperature
Process becomes unstable, which causes wavy beads (weld marks), and generates bubbles.
Requires work-hours for polishing due to excessive scattering of spatter to surroundings.
Tip life deteriorates due to softening.

Effects obtained by cooling and stabilizing the welding torch temperature

Stable power supply produces stable beads (weld marks).
Improved shielding reduces spatter scattering.
Prevents softening of welding tips. Long life.
Stable torch temperature improves operability of tip replacement.

Can be used with large currents.
The use of a "Thermo-chiller" promotes improvement in both quality and operability. Reduce your costs and problems at once!