|

Specifications
Ionizer model
IZS31-□□(NPN specification)
IZS31-□□P(PNP specification)
Ion generation method
Corona discharge type
Method of applying voltage
Sensing DC, Pulse DC, DC
Electricity discharge output
±7000V
Ion balance Note 1)
±30 V (Stainless steel electrode needle: ±100 V)
Air purge
Fluid
Air (Clean and dry)
Operating pressure
0.7 MPa or less Note 2)
Connecting tubing O.D.
φ4
Power supply voltage
DC24V±10%
Current
consumption
Sensing DC mode
200 mA or less (While standing by: 120 mA or less)
Pulse DC mode
Autobalance sensor [Body-mounting type] : 300 mA or less
Autobalance sensor [High-precision type] : 200 mA or less
When sensor is not used : 170 mA or less
DC mode
170 mA or less
Input signal
Discharge stop signal
Connected to GND (Voltage: 5 VDC or less,
Current consumption: 5 mA or less)
Connected to +24 V (Voltage: Between 19 VDC and
power supply voltage, Current consumption: 5 mA or less)
Maintenance signal
Output signal
Static electricity removal completion signal
Max. load current: 100 mA
Residual voltage: 1 V or less (Load current at 100 mA)
Max. applied voltage: 28 VDC
Max. load current: 100 mA
Residual voltage: 1 V or less (Load current at 100 mA)
Maintenance output signal
Error signal
Sensor monitor output Note 3)
Voltage output 1 to 5 V (Connect a 10 kΩ or larger load.)
Effective distance of static electricity elimination
50 to 2000 mm (Sensing DC mode: 200 to 2000 mm)
Ambient temperature, Fluid temperature
0 to 50℃
Ambient humidity
35 to 80% Rh (No condensation)
Material
Cover of ionizer: ABS, Electrode needle: Tungsten, Single crystal silicon, Stainless steel
Vibration resistance
Durability 50 Hz Amplitude 1 mm XYZ each 2 hours
Shock resistance
10G
Compliance with overseas standards/directive
CE (EMC directive: 2004/108/EC)
UL U.S. Standard for Electrostatic Air Cleaner, UL867, fourth edition
CSA Canadian Standard for Electrostatic Air Cleaner, CAN/CSA C22.2 No.187-M1986
Note 1) When the air purge is performed between a charged object and an ionizer at a distance of 300 mm
Note 2) When the electrode cartridge with low maintenance is used, the operating pressure must be 0.05 MPa or more.
Note 3) When the potential of a charged object is measured by a feedback sensor, the relationship between the potential being measured and the sensor monitor output voltage, and the detection range of the sensor vary depending on the sensor's installation distance. Refer to "Technical Data".


Number of Electrode Cartridges/Weight
| Bar length (mm) | 300 | 380 | 620 | 780 | 1100 | 1260 | 1500 | 1900 | 2300 |
| --- | --- | --- | --- | --- | --- | --- | --- | --- | --- |
| Number of electrode cartridges | 3 | 4 | 7 | 9 | 13 | 15 | 18 | 23 | 28 |
| Weight (g) | 470 | 530 | 720 | 850 | 1100 | 1220 | 1410 | 1730 | 2040 |

Sensor
Sensor model
IZS31-DF
(Feedback sensor)
IZS31-DG
(Autobalance sensor [High-precision type])
IZS31-DE
(Autobalance sensor [Body-mounting type])
Ambient temperature
0 to 50℃
Ambient humidity
35 to 85% Rh (No condensation)
Case material
ABS
ABS, Stainless steel
ABS
Vibration resistance
Durability 50 Hz Amplitude 1 mm XYZ each 2 hours
Shock resistance
10G
Weight
200 g (Including cable weight)
220 g (Including cable weight)
110 g (Including cable weight)
Installation distance
10 to 50 mm (Recommended)
-
Compliance with overseas standards/directive
CE (EMC directive: 2004/108/EC, Low voltage directive: 73/23/EEC, 93/68/EEC)
|

Dimensions
Ionizer/IZS31-□□□□-□□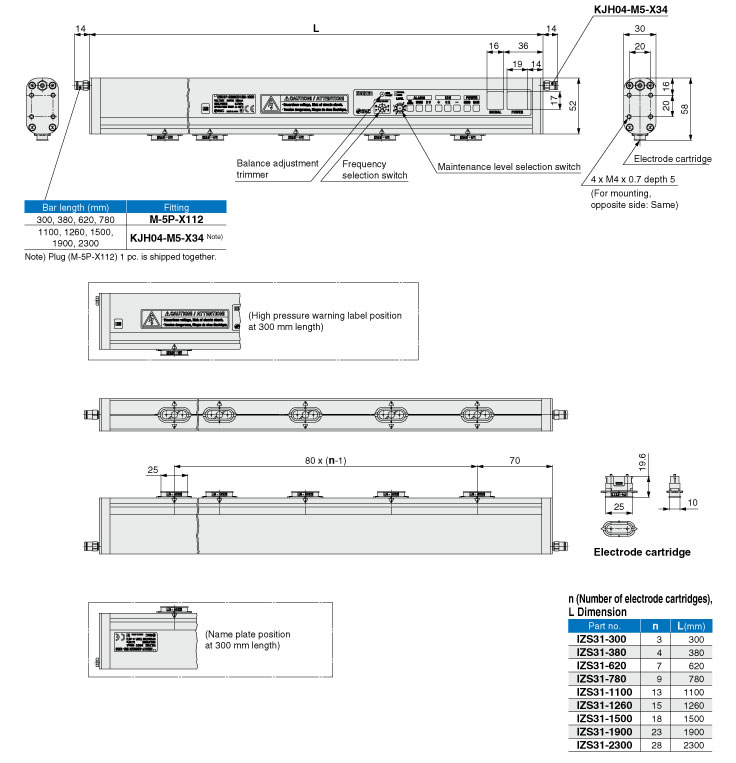 ▲Page top