|

Specifications
Ionizer model
IZN10E-□
(NPN specification)
IZN10E-□P
(PNP specification)
Ion generation method
Corona discharge type
Method of applying voltage
High frequency AC type
Applied voltage∗1
2.5kVAC
Offset voltage
(Ion balance)∗2
Energy saving static
±10V
neutralization nozzle
High flow rate nozzle
±15V
Air purge
Fluid
Air (Clean dry air)
Operating pressure∗3 ∗4
0.05 MPa to 0.7 MPa
Connecting tube size
ø6, ø1/4 inch
Power supply voltage
DC24V±10%
Current consumption
80 mA or less
Input signal
Discharge stop signal
Connected to 0 V
Voltage range: 5 VDC or less
Current consumption: 5 mA or less
Connected to +24 V
Voltage range: 19 VDC to power supply
voltage
Current consumption: 5 mA or less
Reset signal
External switch signal 1
External switch signal 2
Output signal
Discharge signal
Max. load current: 40 mA
Residual voltage: 1 V or less
(Load current at 40 mA)
Max. applied voltage: 26.4 VDC
Max. load current: 40 mA
Residual voltage: 1 V or less
(Load current at 40 mA)
Error signal
Maintenance signal
Effective static neutralization range
20 to 500 mm
Ambient temperature (Operating/Stored)
0 to 55°C
Ambient humidity (Operating/Stored)
35 to 65% RH (No condensation)
Material
Housing
ABS, Stainless steel
Nozzle
Stainless steel
Emitter
Tungsten
Impact resistance
100m/s2
Body weight
Energy saving static
neutralization nozzle
70g
High flow rate nozzle
70g
Female threads for piping
75g
Bracket weight
L-bracket
30g
Pivoting bracket
40g
DIN rail mounting bracket
(Single unit)
40g
Standards/Directive
CE UL, CSA RoHS
*1 Measured with a probe of 1000 MΩ and 5 pF.
*2 Measurement values based on a charged plate (dimensions: 150 mm x 150 mm, capacitance: 20 pF) defined by ANSI standard (ANSI/ESD STM3.1-2006). The distance between the charged plate and the ionizer: 100 mm, the air purge is 0.3 MPa (energy saving static neutralization nozzle) / 0.1 MPa (high flow rate nozzle).
*3 Static electricity cannot be neutralized without air purge. As the concentration of ozone inside the nozzle increases, there is a possibility that the product and surrounding equipment may be adversely affected, so be sure to air purge during ion generation.
*4 To stop the air purge temporarily during operation, turn the discharge stop signal input OFF to prevent the increase of ozone concentration inside the nozzle.
* Refer to the cautions on catarog when using the IZN10E-11 (female threads for piping).
|

Dimensions
Energy saving static neutralization nozzle IZN10E-01□(06,07)
High flow rate nozzle IZN10E-02□(06,07)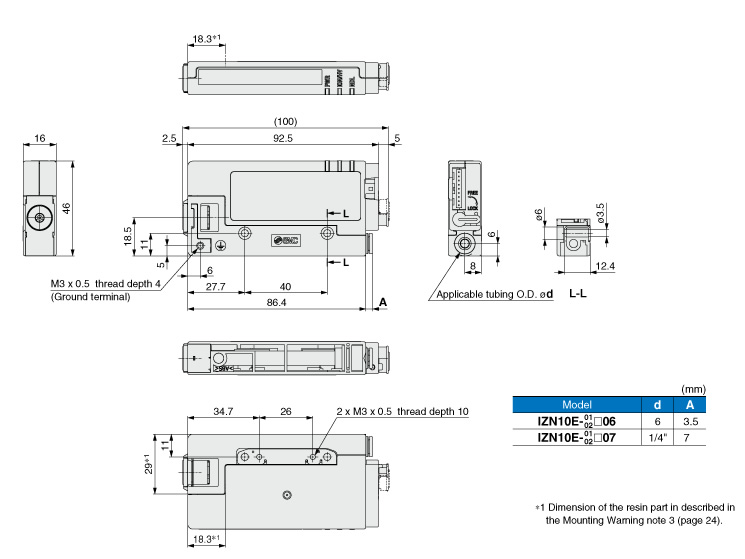 One-touch fitting (Elbow) IZN10E-□□( 16,17)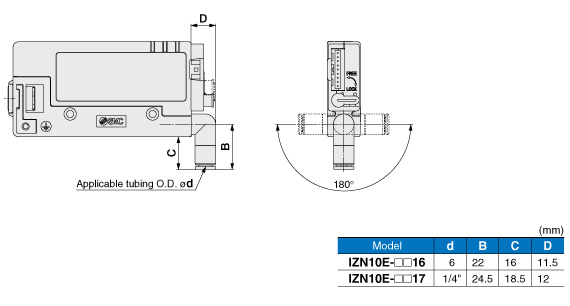 Female threads for piping (Rc1/8) IZN10E-11□□

▲Page top