|

Electrostatic Sensor / Series IZD10

The importance of the static electric control is put on confirming the "actual status".
・Potential measurement:
±20 kV (detected at a 50 mm distance)
±0.4 kV (detected at a 25 mm distance)
・Detects the electrostatic potential and outputs in an analog voltage.
Output voltage: 1 to 5 V
(Output impedance: Approx. 100 Ω)
Small and easy to mount

Broadens your coverage of electrostatic potential measurement applications!

Installation distance
10 to 50 mm: IZD10-110
(±0.4 kV at installation distance: 25 mm)
25 to 75 mm: IZD10-510
(±20 kV at installation distance: 50 mm)
|

Electrostatic Sensor Monitor / Series IZE11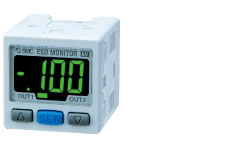 ・Output: Switch output x 2 + Analog output (1 to 5 V, 4 to 20 mA)
・Minimum unit setting: 0.001 kV (at ±0.4 kV), 0.1 kV (at ±20 kV)
・Display accuracy: ±0.5% F.S. ±1 digit or less
・Detection distance correction function (adjustable in 1 mm increments)
・Supports two types of sensors (±0.4 kV and ±20 kV) through range selection
2-color display (Red/Green)
Able to set the display color in 4 patterns.

Connection by connector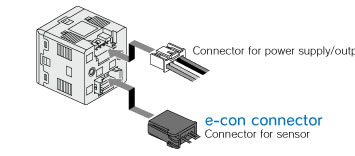 Mountable even with a sensor touched with each other
Possible to reduce panel fitting labor.

Functions
・Detection distance correction
・Peak/Bottom value indication
・Keylock
・Zero-adjust
・Error display
・Switch output anti-chattering
・Selection of connection sensor
▲Page top