WEB Catalog
My List
My List Guide


Product List
Subject ⁄ Industry Classified Products

Nozzle Type Ionizer
IZN10E
・Slim: 16 mm (Thickness) x 100 mm (Width) x 46 mm (Height)
・Lightweight: 33% reduction (120 g → 80 g)
・Offset voltage: ±10 V
・Nozzle type can be selected according to the application.
 Energy-saving static neutralization nozzle (Short range static neutralization)
 High flow rate nozzle (Long range static neutralization)
Series
Ion generation method
Offset voltage
(Ion balance)

IZN10E

Corona discharge type

Energy saving static neutralization nozzle: Within ±10 V
High flow rate nozzle: Within ±15 V
Nozzle Type IonizerIZN10E

■Application Examples
For dust removal and static neutralization by air blow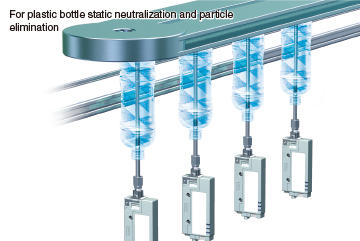 The nozzle type can be selected according to the application.
Short range static neutralization: Energy saving nozzle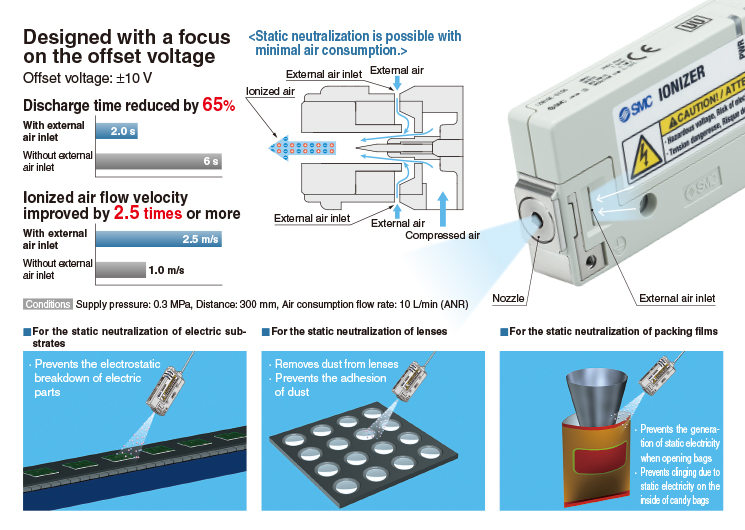 Long range static neutralization: High flow rate nozzle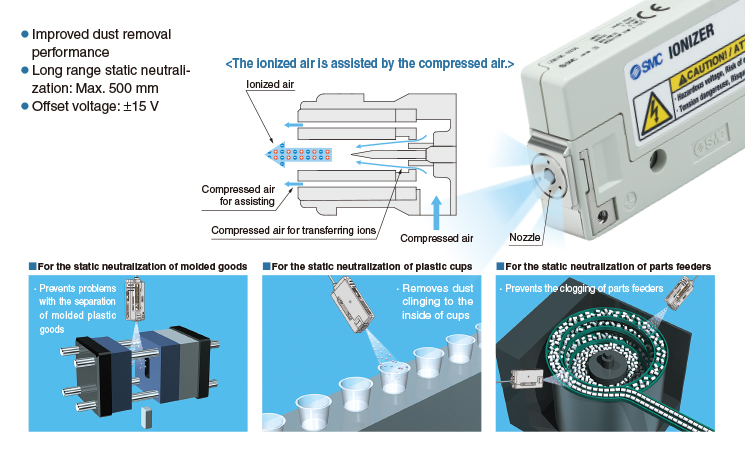 ■With external switch input function (2 inputs)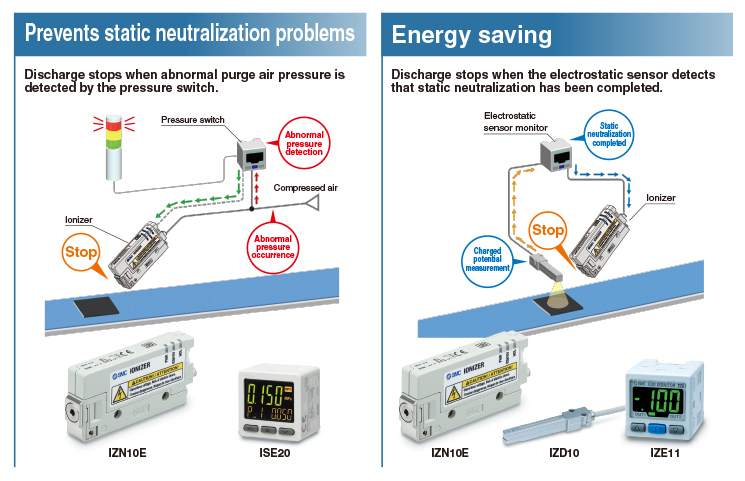 ■A high voltage power supply cable is not required.
A high voltage power supply is built in to the product; therefore, an external high voltage power supply or high voltage power supply cable is not required.
■Easy maintenance
Can be disassembled into 3 parts Tools are not required for the installation or removal of the assembly.
It is possible to conduct maintenance on the emitter without removing the body.
There is no need to readjust the nozzle angle when the ionizer is restarted.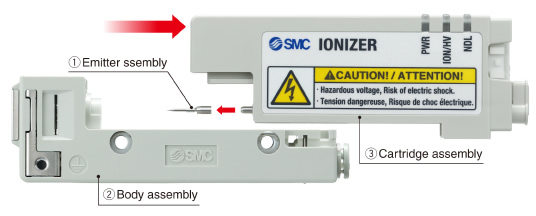 Maintenance warning function
· Monitors emitter contamination and wear continuously
· Notification of abnormalities via LED and output signal
· Detects optimal maintenance time
· Reduced maintenance labor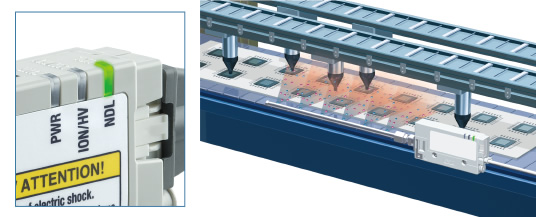 ■Mounting variations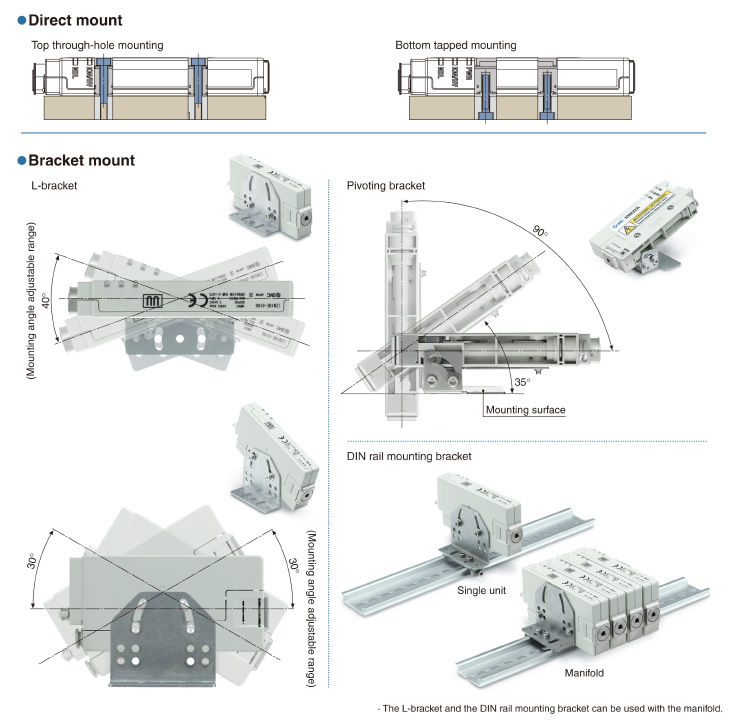 ■Intermittent control timer Related product
Air saving IZE110-X238
A digital timer that can control the ON/OFF switches of valves, etc.
Intermittent ion discharge reduces air consumption.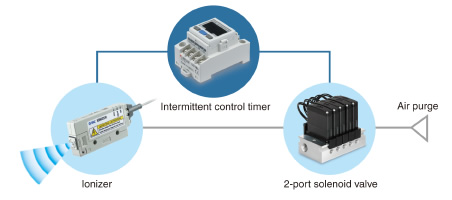 ■Nozzle variations Made to order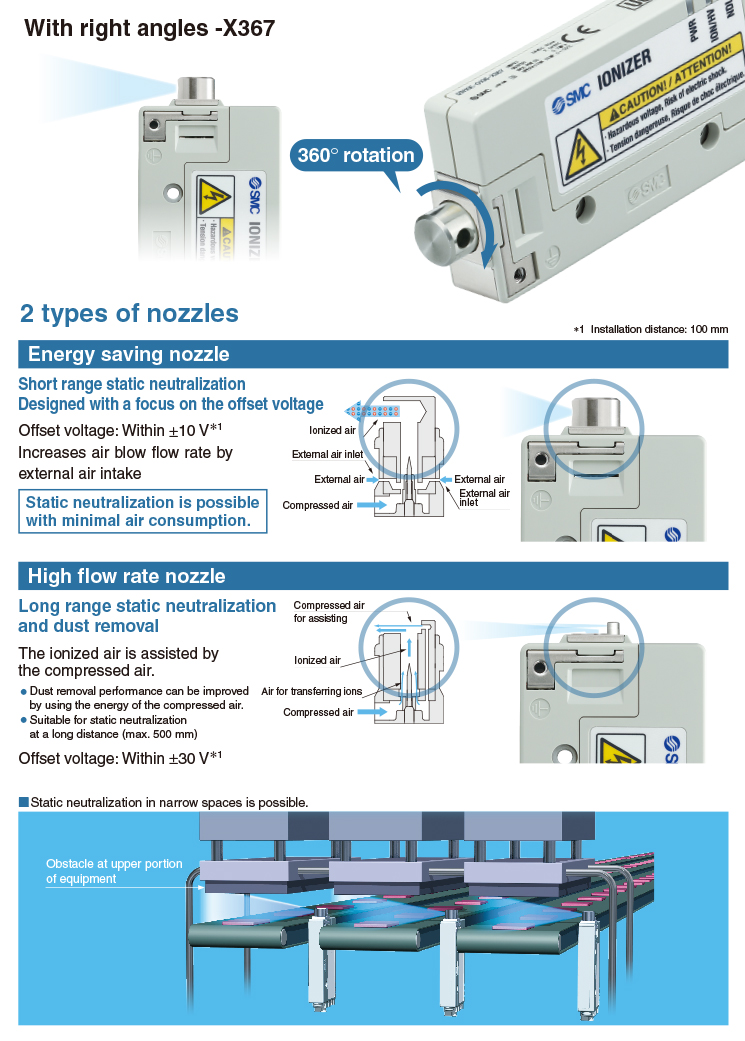 ■Nozzle variations Made to order
■Series Variations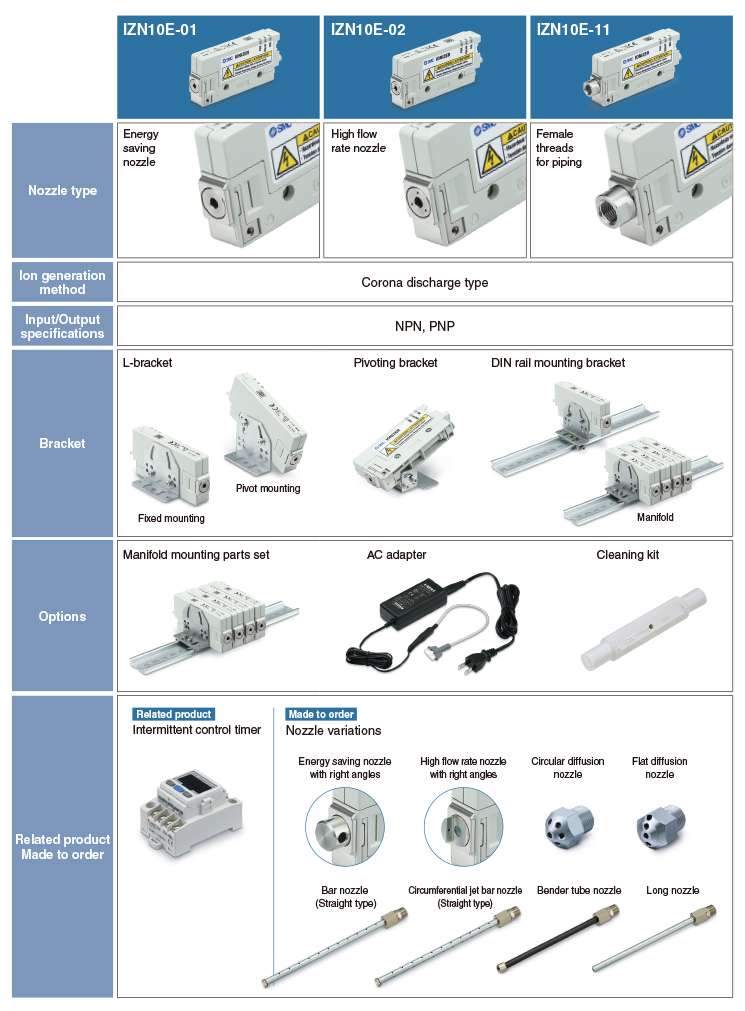 ▲Page top