Static Neutralization Equipment
Ionizer/Bar Type IZS40/41/42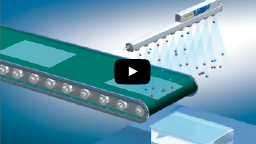 Playtime : 0m07s
・Potential amplitude of 25 V or less with the dual AC type
 (At an installation height of 300 mm)
・Rapid neutralization of static electricity by a feedback sensor
・Reduction of adjustment and maintenance labor by an auto
 balance sensor

Separate Controller Ionizer/Bar Type/Nozzle Type IZT40/41/42/43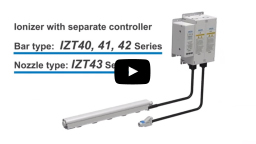 Playtime : 3m51s
・The controller and high-voltage power supply module can be
 mounted separately.
・Space saving: Height 37 mm x Width 30 mm (Bar type)
 Thickness 16 mm x Width 53 mm x Height 32 mm
 (Nozzle type)
・One controller can control a maximum of 4 ionizers.
・Potential amplitude: 25 V or less
・Rapid neutralization of static electricity: Max. speed of 0.1 s
・3 types of emitter cartridges
 High speed static neutralization cartridges
 Energy saving static neutralization cartridge
 Energy saving high-efficiency cartridge
・Static neutralization is possible even when air is not being
 supplied.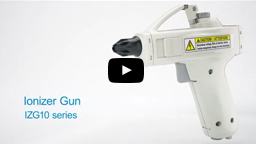 Playtime : 1m47s
・Lightweight: Only 200 g (Body weight)
・Reduced operating force, Easy to hold grip
・Lighting LED
・Blow setting function
 Select from continuous blow or pulse blow.
・Rapid static neutralization: 0.3 s
  (Distance: 150 mm,Operating pressure: 0.2 MPa),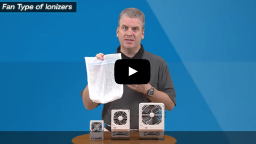 Playtime : 1m34s
・Thinnest: 40 mm thick
・Fastest: Rapid static neutralization 0.5 seconds
・Offset voltage (Ion balance): ±5 V
・Stable static neutralization performance, Easier maintenance
 Series