WEB Catalog
My List
My List Guide


Product List
Subject ⁄ Industry Classified Products
Adobe Flash Player(v16 or later) is required to view the catalog.


2/3-Port Mechanical Valve with One-touch Fitting
VM100F
・Built-in One-touch fitting reduced installation space and less piping work
・Space saving
 Built-in One-touch fitting Approx. 35% reduction (25.8 mm shorter)
・Lightweight
 With resin body material 80% reduction (48 g lighter)
・Less man-hours replacing the actuator
 Mounting using a clip makes replacement easier.
| Description | Series | Number of ports |
| --- | --- | --- |
| Mechanical valve | VM100F | 2/3 ports |
2/3-Port Mechanical Valve with One-touch FittingVM100F

■Built-in One-touch fitting reduced installation space and less piping work
Space saving・Lightweight
Built-in One-touch fitting Approx. 35% reduction (25.8 mm shorter)

Piping direction

Mounting interchangeable with the conventional model
Mounting pitch and height are the same as the current model
Available in vacuum applications
−100 kPa to 0.7 Mpa
Actuator Variations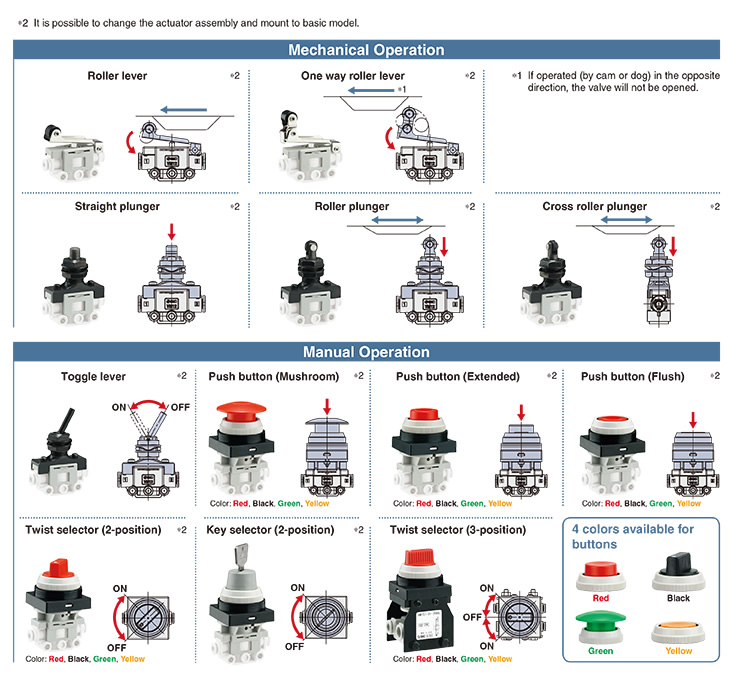 ▲Page top