WEB Catalog
My List
My List Guide


Product List
Subject ⁄ Industry Classified Products
Adobe Flash Player(v16 or later) is required to view the catalog.


Intelligent Valve Controller
ND9000
・Can be used for rotary and linear actuators
・SIL 2 certified by TÜV (Acc. to IEC 61508)
・Equipped with self-diagnostics
・Equipped with fail safe function (fully closed/fully open)
・Compatible with HART communication
・Exterior covering enclosure: IP66, NEMA 4X
Series
Enclosure Material
Air connection port
Supply pressure (MPa)
Supply power

ND9100

Anodised aluminum alloy
and polymer composite

G1/4

0.14 to 0.8

4 to 20 mA

ND9200

Anodised aluminum alloy
and tempered glass

NPT1/4

0.14 to 0.8

4 to 20 mA

ND9300

stainless steel

NPT1/4

0.14 to 0.8

4 to 20 mA

ND9400

stainless steel
and polymer composite

NPT1/4

0.14 to 0.8

4 to 20 mA
Intelligent Valve ControllerND9000
| Series | Download |
| --- | --- |
| ND9100 | |
| ND9200 | |
| ND9300 | |
| ND9400 | |

■Key Features
・Benchmark control performance on rotary and linear valves
・Reliable and robust design
・Easy commissioning and operation
・Safety; SIL 2 certified by TÜV (Acc. to IEC 61508)
・Language selection: English, German and French
・Local/remote operation
・Expandable architecture
・Equipped with a variety of self-diagnostics
 Self-diagnostics/Online diagnostics/Performance diagnostics/Communication diagnostics/
 Extended off-line tests/Performance view/Online Valve Signature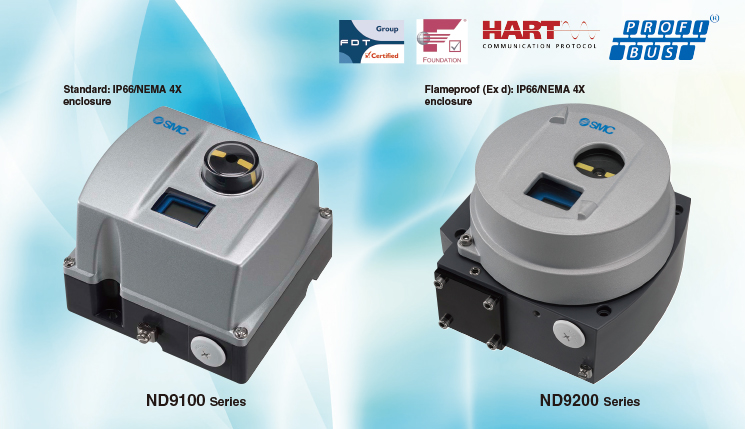 ■Minimized process variability
・Linearisation of the valve flow characteristics
・Excellent dynamic and static control
 performance
・Fast response to control signal change
・Accurate internal measurements

■Easy installation and configuration
・Can be used for linear and rotary valves,
 double and single acting actuators
・Simple fast calibration and configuration
 using Local User Interface (LUI)
 using DTM / EDD in a remote location
 using DCS asset management tools
・Low power consumption enables installation
 to all common control systems


■Options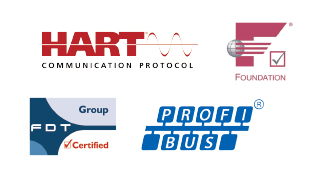 ・Interchangeable communication options:
 HART 6 or 7 (H)
 FOUNDATION fieldbus
 Profibus PA
・Limit switches
・Position transmitter (in HART only)
・Full stainless steel enclosure
・Exhaust adapter
・Remote mounting
・Arctic temperature specifications: (Up to –53°C)


■Open solution
・The ND9000 can be freely interfaced with software and hardware from a variety of
 manufacturers. Using this open architecture allows the ND9000 to be integrated with other field
 devices to give higher controllability.
・FDT and EDD based multi-vendor support configuration
・Support files for ND9000 are available at the following website: www.metso.com/valves

■Fieldbus networks
・Interoperability
 Host interoperability
 FOUNDATION fieldbus ITK version 6.1.2
 Profibus PA profile version 3.0 PNO
・Easy to upgrade; by replacing the HART communication board with a fieldbus communication
 board
・Excellent maintainability with firmware download feature
・Advanced communication diagnostics
・Digital communication via the fieldbus includes not only the set point, but also the position
 feedback signal. from the position sensor. No special supplementary modules for analog or
 digital position feedback are needed when using the fieldbus valve controller.
・Back up LAS functionality available in FOUNDATION fieldbus environment
・Input selector and output splitter blocks available in FOUNDATION fieldbus devices allowing
 advanced distributed control
・Standard function blocks enables the freedom to use the ND9000 intelligent valve controller in
 either continuous or on-off control applications
・Open and close information is directly available via the fieldbus
・Open and close detection is based on either position measurement (soft limit switch) or
 mechanical limit switch information
■Mounting on actuators and valves
・Can be mounted on single and double-acting actuators
・Both rotary and linear valves
・Ability to attach options to electronics and mechanics later
・1-point calibration feature enables mounting without disturbing the process

■Product reliability
・Designed to operate in harsh environmental
 conditions
・Rugged modular design
・Excellent temperature characteristics
・Vibration and impact tolerant
・IP66 enclosure
・Stainless steel enclosure
 (ND9300 and ND9400)
・Protected against humidity
・Wear resistant and sealed components
・Contactless position measurement

■Preventive maintenance
・Easy access to collected data with Metso
 Device Care software
・Unique Online Valve Signature to detect valve
 friction even more accurately.
・Performance view with report, which gives
 guidelines for recommended actions.
・Logical trend and histogram collection
・Information collected during process uptime
・Extensive set of off-line tests with accurate
 key figure calculations
・Fast notifications with on-line alarms
・Condition monitoring tool available
・Real time monitoring of valve control
 parameters

■Technical Description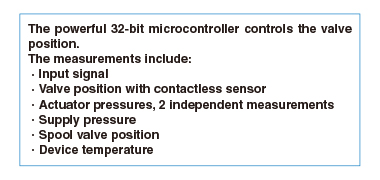 The ND9000 is a 4–20 mA or fieldbus powered microcontroller- based intelligent valve controller.
The device contains a Local User Interface (LUI) enabling local configuration.
A PC with Device Care software can be connected to the ND9000 itself or to the control loop.

▲Page top