What is TR-CU?
|

What is TR-CU?

The Eurasian Customs Union (EACU) which consists of the member states of the Eurasian Economic Union came into existence on 1st January 2010 as the Customs Union of Belarus, Kazakhstan and Russia, and was enlarged in January 2015 to include Armenia and Kyrgyzstan.
The member states implemented a plan for economic integration and removed all customs borders between each other after July 2011. As of March 2015, all national legislation was harmonised into one set of regulations, applicable to all member states, superseding national schemes such as GOST-R, now required to be re-certified to TR CU.

The Russian TR CU certificate is issued by authorized certification bodies signifies that imported products comply with standards of the Customs Union's member countries as well as quality and safety requirements.
This TR-CU certificate must be acquired, and the EAC mark attached to the product before shipping to Russia.

There are two types of conformity assessment procedures - Certification (CoC) and Declaration (DoC). List of products which are subject to Certification and Declaration is provided in the relevant CU Technical Regulations.
The entire product group of SMC has been through the certification procedures required for SMC Russia, and a Certificate of Conformity can be issued for the TR-CU certified products to prove conformity.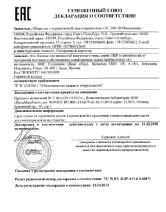 Example of TR-CU Declaration of Conformity
TR-CU (Technical regulations of the Customs Union) related to SMC
| Regulation No. | Regulation Subject |
| --- | --- |
| TR CU 004/2011 | Safety of low-voltage equipment |
| TR CU 010/2011 | Safety of machinery |
| TR CU 012/2011 | On the safety of equipment in explosion hazardous environments |
| TR CU 020/2011 | Electromagnetic compatibility of technical devices |
| TR CU 032/2013 | Safety of pressure equipment |