-
New Products
Product Information » New Products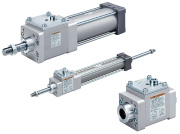 Cylinder with Lock/Lock Unit
ø32, ø40, ø50, ø63, ø80, ø100
MWB/MWB-UT Series
Updated Oct-17
Bore sizes φ80 and φ100 have been added.

[New]

Lock units 80 and 100 have been added.

[New]

Lock can be manually operated with a hexagon wrench.
Can be easily mounted onto equipment
Separable construction for improved ease of maintenance
Holding force improved by 15%
High stopping accuracy with in ±1 mm
Overall length reduced by 18 mm max.


See Catalogs
Product Features
A locking cylinder ideal for intermediate stops, emergency stops,
and drop prevention
■Separable construction for
 improved ease of maintenance
The lock unit and the cylinder can be separated.
This allows for easier maintenance.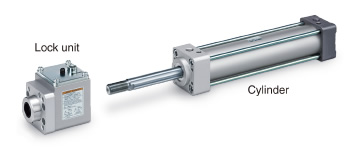 ■Part numbers for products with a rod end bracket and/or a pivot bracket are available..
It is not necessary to order a bracket for the applicable cylinder separately.
* Rod end brackets and pivot brackets are shipped together with the product, but not assembled.

■Series Variations

■Lock Unit
A safety mechanism can be designed if required.
It can also be combined with a wide variety of actuators.
・Prevents the workpiece from falling
・Retains the workpiece position even when the air supply is shut off due to power failure, etc.