|

RoHS Directive(2011/65/EU、2015/863/EU)

A directive on restrictions on the use of specific hazardous substances contained in electrical and electronic equipment that was launched in the EU.
The RoHS Directive (2002/95/EC) is effective from July 2006 and is now revised to 2011/65/EU on July 1, 2011. Four substances, specific phthalates, that were considered as additionally regulated chemical substances were added to the scope of the regulation. (2015/863/EU)



● Scope of application: Products equipped with electrical and electronic equipment to be launched in the EU.
(* There are exceptions depending on the intended use)
● Additionally regulated chemicals:
| Chemical substance | Official Name | CAS Number |
| --- | --- | --- |
| DEHP | Bis (2-thylhexyl) phthalate | 117-81-7 |
| DBP | Di-n-butyl phthalate | 84-74-2 |
| BBP | n-phthalic acid-butylbenzyl phthalate | 85-68-7 |
| DIBP | Diisobutyl phthalate (diisobutyl phthalate) | 84-69-5 |
● Regulatory period: The RoHS Directive classifies products equipped with electrical and electronic equipment into 11 categories. Effective start date is determined for each category.
Category (Annex I )
Effective Start Date
Additional 4
Substance
Regulation Period
1
Large household appliances
2006/7/1
2019/7/22
2
Small household appliances
3
IT and telecommunications equipment
4
Consumer equipment
5
Lighting equipment
6
Electronic tools
7
Toys, leisure and sports equipment
8
Medical equipment
Medical equipment
2014/7/22
2021/7/22
In-vitro diagnostic
medical devices
2016/7/22
9
Monitoring, control equipment
Monitoring, control equipment
2014/7/22
2021/7/22
Industrial monitoring /
control equipment
2017/7/22
10
Vending machines
2006/7/1
2019/7/22
11
Other electrical and electronic devices that do not fit in the above categories
2019/7/22
2019/7/22
●RoHS Directive standards (specific hazardous substances and standard values)
 The specified hazardous substances in the following 10 substance groups are subject to regulation.
Numerical values are standard values (ppm content in homogeneous material)
Lead: 1000ppm or less
Mercury: 1000ppm or less
Cadmium: 100ppm or less
Hexavalent chromium: 1000ppm or less
Polybrominated biphenyls (PBBs): 1000ppm or less
Polybrominated diphenyl ethers (PBDEs): 1000ppm or less
Bis (2-ethylhexyl) phthalate (DEHP): 1000ppm
Di-n-butyl phthalate (DBP): 1000ppm
Nphthalic acid-butylbenzyl phthalate (BBP): 1000ppm
Diisobutyl phthalate (DIBP): 1000ppm



Note: Appilcations/materials that are technically difficult to substitute are designated as exempted materials (RoHS_Annex III,IV) in the directive and can be used continuously.
|

SMC RoHS Directive Compliance

Compliant with SMC's RoHS directive
●Products covered by SMC are mainly category 9 factory monitoring equipment (from 2017/7/22)
 (There are also some category 8 medical products)

●If a customer's product using our products falls into the category at the start of application, our products (regardless of the use of electrical/electronic parts) are also required to comply with the RoHS Directive (standard). In order to respond to environmental concerns and customer requests, we have been actively switching to products that comply with the RoHS Directive. In order to distinguish non-RoHS products from our global product inventory, we provide them to customers who request them.




*RoHS or CE (or both) is displayed in the catalog of SMC products that comply with the requirements of the 10 substances designated by the RoHS Directive (2015/863 / EU). To distinguish them from non-RoHS products in our global inventory of products, please request RoHS compliant products from your sales representative when ordering.


●Identification of products that comply with the RoHS Directive
1. Products that comply with RoHS Directive standards
 Products that comply with the RoHS_6 substance standard (lead, mercury, cadmium, hexavalent chromium, PBB, PBDE) have a "G" mark.
 Produce that comply with the RoHS_10 substance standard have an "H" mark.
 Some products already comply with the 10 substance standards even if they are marked "G" above.
 (Products conforming to 10 substance standards from the beginning)

1) Products with nameplates have "G", "H" marks next to the lot number in the nameplate.
2) There is a "G", "H" mark on the label of the packing box.


Identification code for RoHS identification product label
Write "G", "H" on the label of products that are RoHS compliant.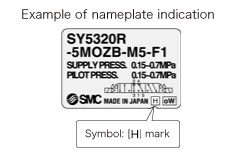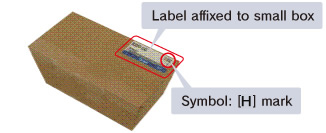 Identification of RoHS compliant products
Small box (product/part)
2) Products with electrical/electronic components: CE mark added.
|

Proof of RoHS compliance

1) Products with electrical/electronic components: CE mark added and certified by self-declaration.

2) Products with no electrical/electronic components: SMC's guarantee of non-use will be answered provided upon request.
Please make a request with the sales representative or distributor in charge.

●Exempted applications/use of materials
There are certain materials that are exempted to a certain extent, such as when there is no appropriate alternative. (Excluded applications/materials can be modified at any time)
Exempted applications/materials for SMC products ( ) are RoHS_Annex III, IV (Number as category 9)
【 7(c)-Ⅰ】:Lead in electrical and electronic components other than dielectric ceramics in capacitors, including lead in glass or ceramic, or glass or ceramic matrix compounds.
【 6(a)】: Lead content of 0.35 wt% or less in steel materials (free cutting steel, etc.)
【 6(c)】: Containing 4wt% or less of lead in copper alloys (brass, phosphor bronze, etc.)
【 6(b)】: Containing 0.4wt% or less of lead in aluminum materials (aluminum die casting, etc.)
【 7(a)】: Lead in high-melting-point solder (lead alloy containing lead exceeding 85wt%)
【 8(b)】: Cadmium in electrical contacts

The above shows our interpretation based on laws and regulations as of September 2021.
Please check again for legal details and interpretations.