About SMC » Quality assurance

SMC Quality Policy
SMC moves forward, bringing together the wisdom of all its employees with the mottoes of customer first and quality first, and contributes to the development of the world.
1. Customer First
Quickly responds to customer requests and provides high quality products and services to meet customer expectations.

2. Source Control
Identifies issues at an early stage, repeatedly conducts Why analyses to trace issues back to the root causes and greatly improve issues for the establishment of a quality assurance system.

3. Full Participation
Is aware of their own responsibility and implements quality improvement activities with the participation of all employees to achieve the quality demanded by customers.

4. Plan Initiative
Each employee commits to prioritizing quality and reliably follows the plan-do-check cycle.

To achieve these quality policies, SMC establishes, maintains and continues to improve the quality management system to allow all related SMC employees in the world to operate.
Quality Management System・ISO9001
This is an international standard for quality control and quality assurance. SMC has obtained a large number of certifications in Japan and overseas, providing assurance to our customers throughout the world.

Environmental Management System・ISO14001
This is an international standard related to environmental management systems and environmental inspections. While promoting environmentally friendly automation technology, SMC is also making diligent efforts to preserve the environment.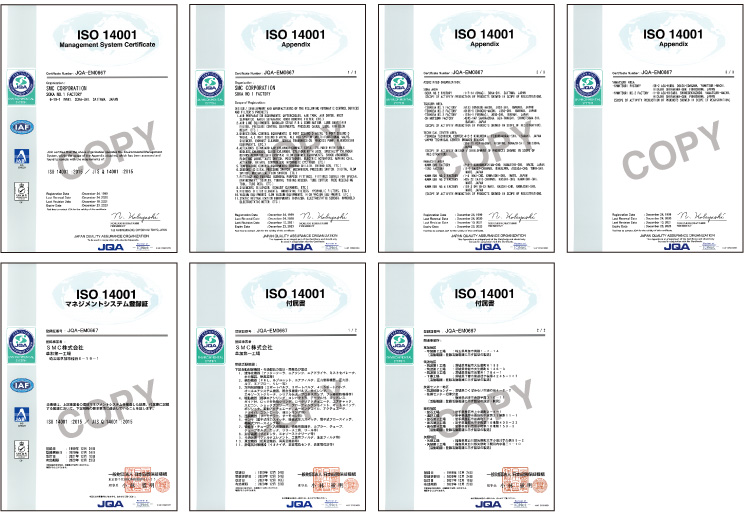 Status of Acquisition of ISO Certification
Applicable Products and Services
(The design, development, and manufacturing of the following products)
| | | |
| --- | --- | --- |
| Air Preparation Equipment | Temperature Control Equipment | Vacuum Equipment |
| Air Line Equipment | Sensors | Silencers |
| Directional Control Valves | Fitting and Tubing | Static Neutralization Equipment |
| Actuators | Filters | |