WEB Catalog
My List
My List Guide


Product List
Subject ⁄ Industry Classified Products
Adobe Flash Player(v16 or later) is required to view the catalog.


2/3 Port Solenoid Valves/Air Operated Valves
Pilot Operated 2 Port Solenoid Valve (2 Way Valve)
VXD
・For air, water, oil, heated water, high-temperature oil
・Body materials: Aluminum, Resin, C37, Stainless steel, CAC407
・A type with One-touch fittings (Resin body) is available.
・IP65
Series
Actuation
Port size
Orifice diameter (mmø)

VXD

N.C./N.O.

φ10, φ12, φ3/8''
1/4 to 1
32A to 50A

10 to 50
Pilot Operated 2 Port Solenoid Valve (2 Way Valve)VXD

■Compact / Lightweight
Options added![New]
Class H/24 VDC
Class H/DIN terminal
Seal material: EPDM
■Adaptation fluid:Air, Water, Oil, Heated water(99°C), High temperature oil(99°C)
Enclosure: IP65
* Electrical entry flat terminal type terminal is IP40.
Power consumption (DC/N.C. valve):
4.5 W (VXD23 to 25), 10.5 W (VXD28 to 29), 7 W (VXD26 to 27)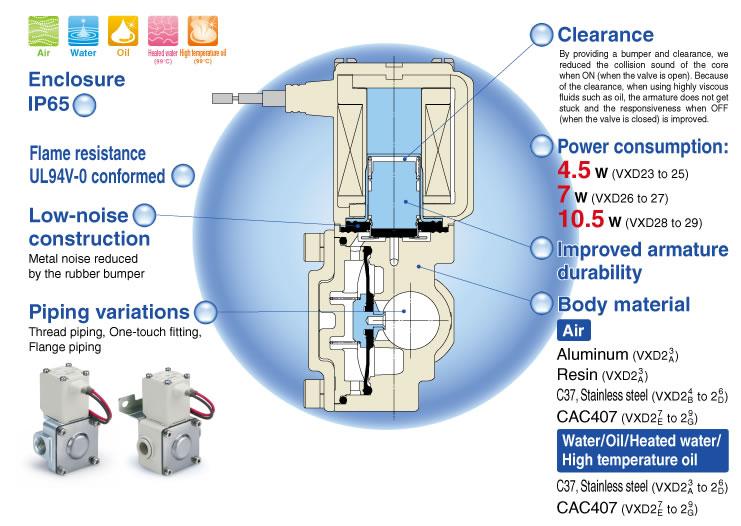 Built-in full-wave rectifier type(AC specification: Insulation type Class B/H)
・Improved durability
Service life is extended by the special construction. (compared with current shading coil)
・Reduced buzz noise
Rectified to DC by the full-wave rectifier, resulting in a buzz noise reduction.
・Reduced apparent power (Class B, N.C. valve)
10 VA → 7 VA (VXD23 to 25)
20 VA → 9.5 VA (VXD26 to 27)
32 VA → 12 VA (VXD28 to 29)
・Improved OFF response
Specially constructed to improve the OFF response when operated with a higher viscosity fluid such as oil.
・Low-noise construction
Specially constructed to reduce the metal noise during operation.
■Variation

▲Page top