-
WEB Catalog
My List
My List Guide


Product List
Subject ⁄ Industry Classified Products
Adobe Flash Player(v16 or later) is required to view the catalog.


Serial Transmission System
EX600
For Input/Output

∗The applicable protocols differ depending on the series.
 For details, refer to the catalog of each series.
Series
Enclosure
Communication protocol∗
Applicable valve

EX600

IP67

PROFIBUS DP
DeviceNet™
CC-Link
EtherNet/IP™
EtherCAT®
Ethernet PROFINET
Modbus/TCP (Made to Order)
POWERLINK (Made to Order)
SY3000,5000,7000 (Plug-in)
SV1000,2000,3000
VQC1000,2000,4000
S0700(IP40)
Serial Transmission SystemEX600

■Series EX600 Configurations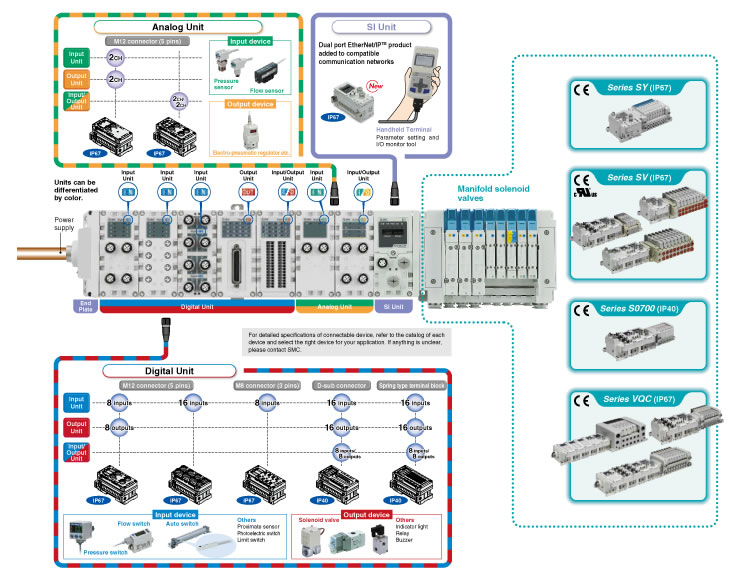 ■Connection using D-sub connector
These units are capable of connection using a D-sub connector. There are three types of units, for digital input, output, and input/output. The Digital Output Unit can be connected with an SMC manifold solenoid valve F kit (D-sub connector).

■Self Diagnosis Function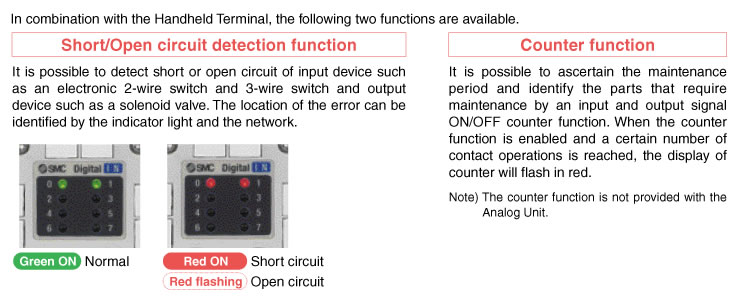 ■Handheld Terminal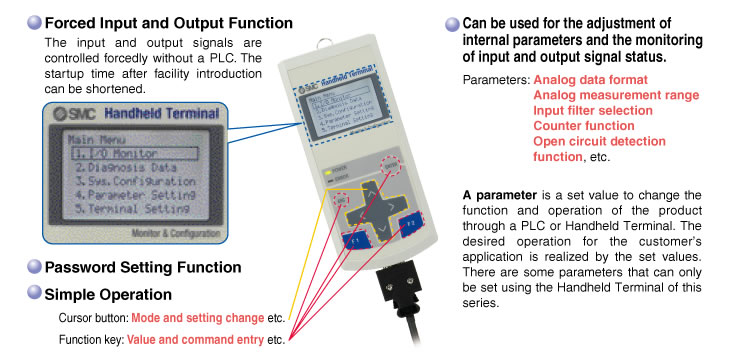 ■Individual units can be connected and removed one by one.
A unique clamping method is adopted to prevent screws from falling out.
It is easy to separate the unit just by loosening bracket screws.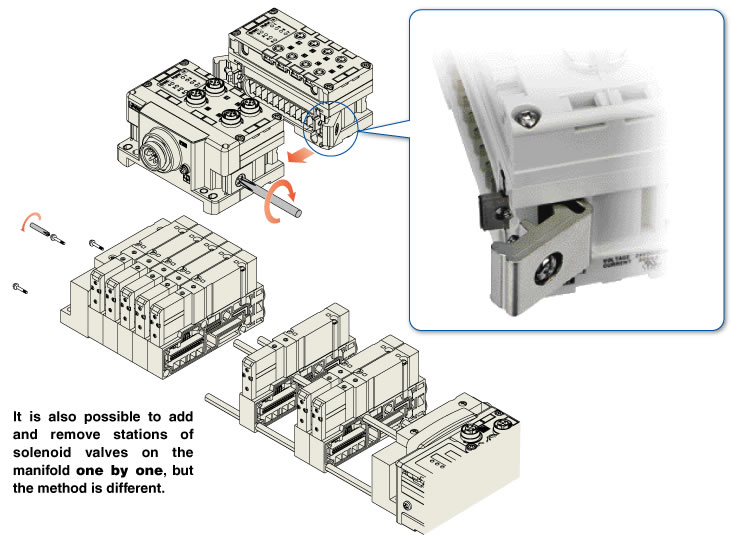 ■Latest EtherNet/IPTM Technology
The following functions are available for the dual port EtherNet/IPTM product (EX600-SEN3/4).
・Added Compatible Topologies (connection configuration).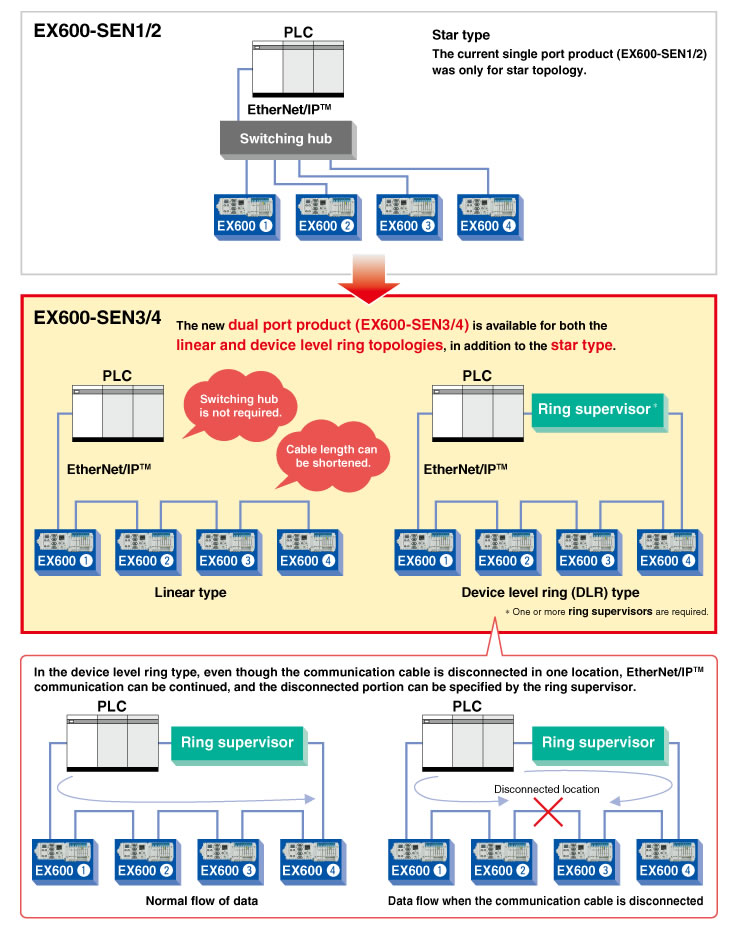 ・QuickConnectTM Function Available
In the case of a tool changer, it takes about 10 seconds for the communication to be connected in common EtherNet/IPTM products, after the power of the device installed on the tool is turned ON. Since the QuickConnectTM function* is available in the EX600-SEN3/4, the communication can be connected in about 0.5 seconds.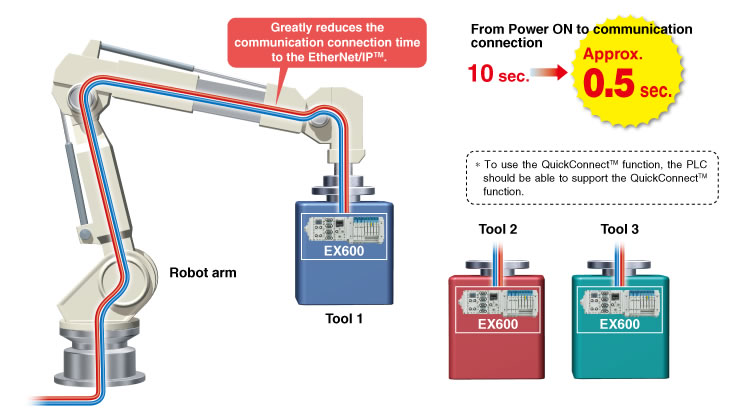 ・Built-in Web Server Function
The EX600-SEN3/4 has a built-in web server function, which enables status checks, parameter settings and forced output of the EX600 using general-purpose web browsers, such as Internet Explorer. Start-up of the system and maintenance can be performed efficiently.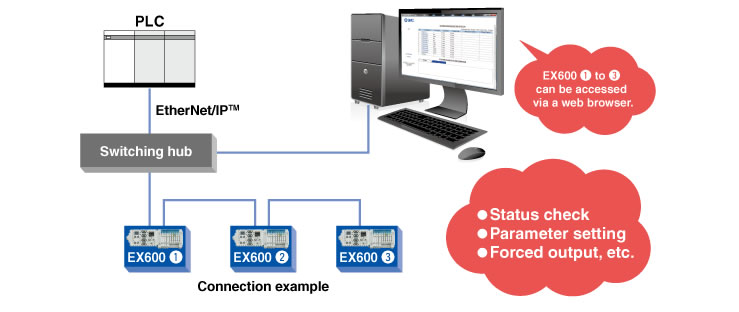 ▲Page top