-
Photovoltaic Cell Manufacturing Process Equipment

The vacuum-lift and transfer of a workpiece with uneven
and/or viscous surface (solar battery cell) is possible.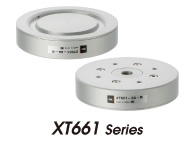 | | |
| --- | --- |
| ・Non-contact Gripper | XT661 |
Working Principle
Air from the supply port is ejected from a nozzle on the cylindrical side to generate a whirlwind flow inside the cylinder and leading to the vacuum. (Cyclone effect) Supply air is discharged to the atmosphere from between the suction surface and the workpiece. As a result, an air layer is generated between the cyclone pad and the workpiece, resulting in the workpiece being lifted without contact.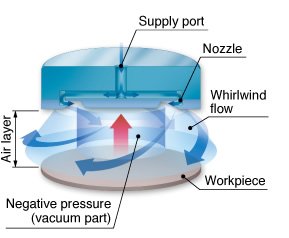 Prevents vibration and deflection of plates for thin film.
| | |
| --- | --- |
| ・Air Levitation Rail (Made to Order) | Please inquire details |