-
New Products
Product Information » New Products

NEW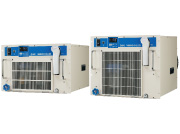 Circulating Fluid Temperature Controller
Thermo-chiller/Rack Mount Type
HRR Series
Updated Aug-18
Operable without the need to remove the unit from the rack
Front Access: Simple to control, service and maintain with all filters and drainage via the front panel
Space Saving: Multiple chillers can be mounted to a 19-inch rack.
Cooling capacity: 1.2/1.8/2.4/3.0 kW (60 Hz)
Temperature stability: ±0.1ºC
Global power supply: Single-phase 200 to 230 VAC (50/60 Hz)


See Catalogs
Product Features
■Operable without the need to remove the unit from the rack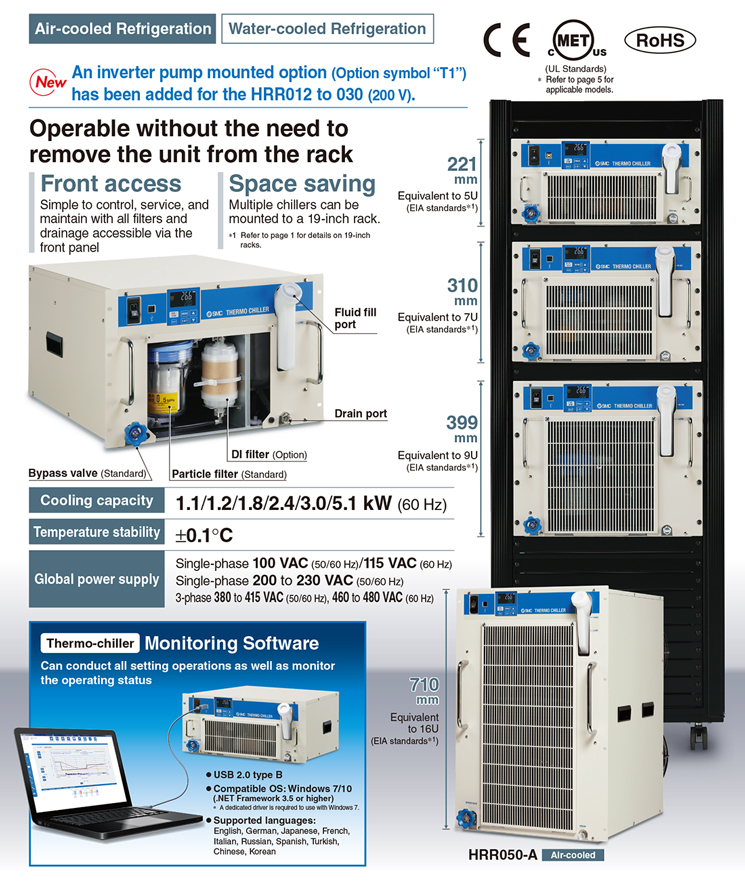 ■Front Access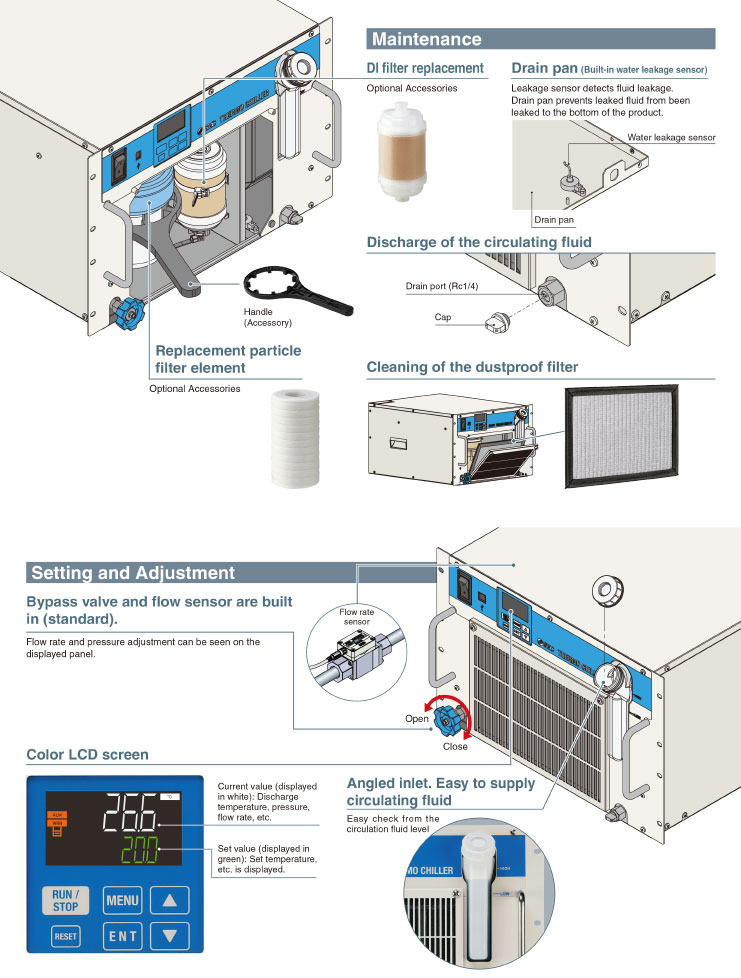 ■Space Saving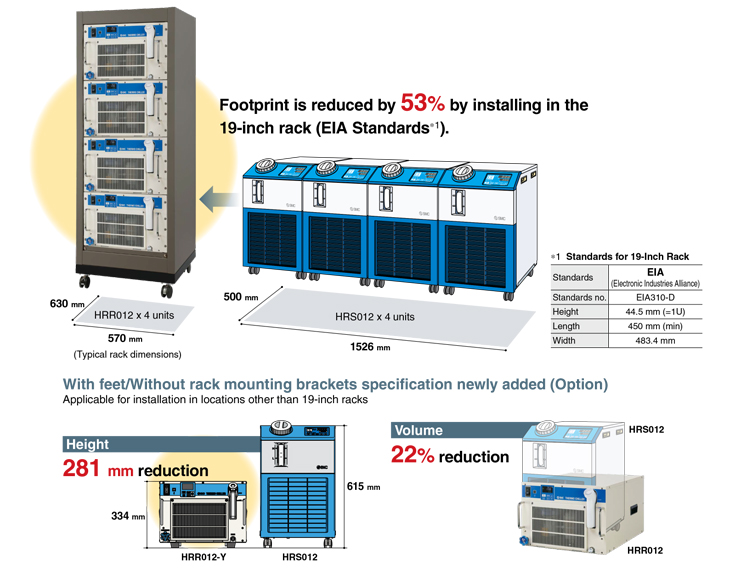 ■Temperature stability: ±0.1ºC
The precision temperature control method by expansion valve and temperature sensor,
realized high temperature stability of ±0.1°C.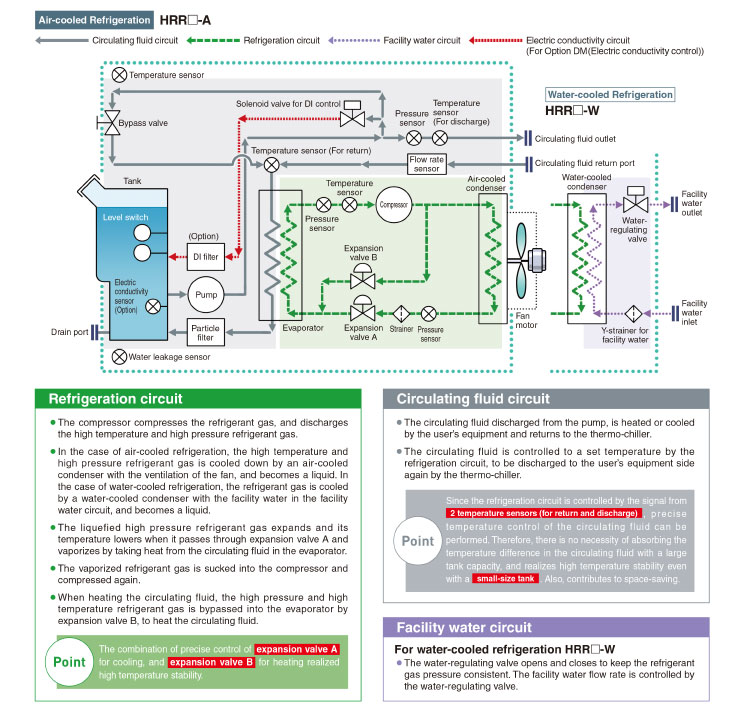 ■Self-diagnosis function and alarm code display
Display of 23 types of alarm codes
Operation is monitored all the time by the integrated sensor. The self-diagnosis result is
displayed by the applicable alarm code from 23 types.


■Menu for maintenance schedule
Time for periodical checks for the pumps, fan motor, dustproof filter, etc. will generate a
maintenance code.
Helpful for facility maintenance


■Displaying screen for operating conditions
Temperatures of the thermo-chiller, pressure, etc. can be displayed.

■With heating function
Heating method using discharged heat makes a heater unnecessary.
Heating functions are effective to maintain a constant temperature particularly in the winter
when the ambient temperature is low.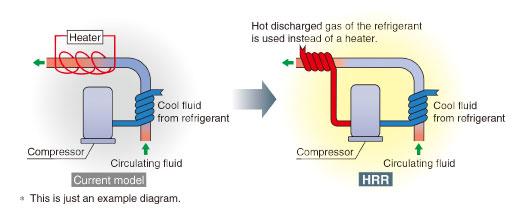 ■Communication functions
The serial communication (RS-232C/RS-485) and contact input/output signals (2 inputs
and 3 outputs) are equipped as standard. Communication with the user's equipment and
system construction are possible, depending on the application.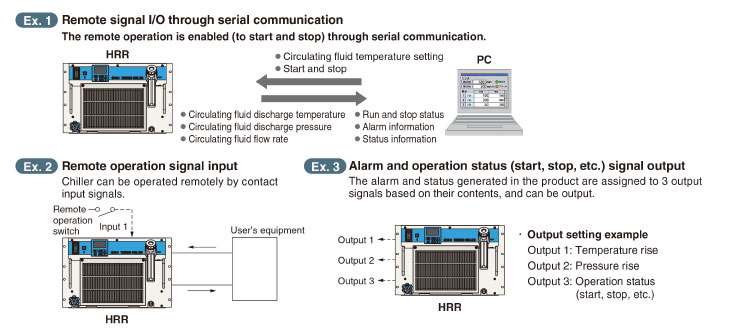 ■Power supply (24 VDC) available

■Variations

■Application Examples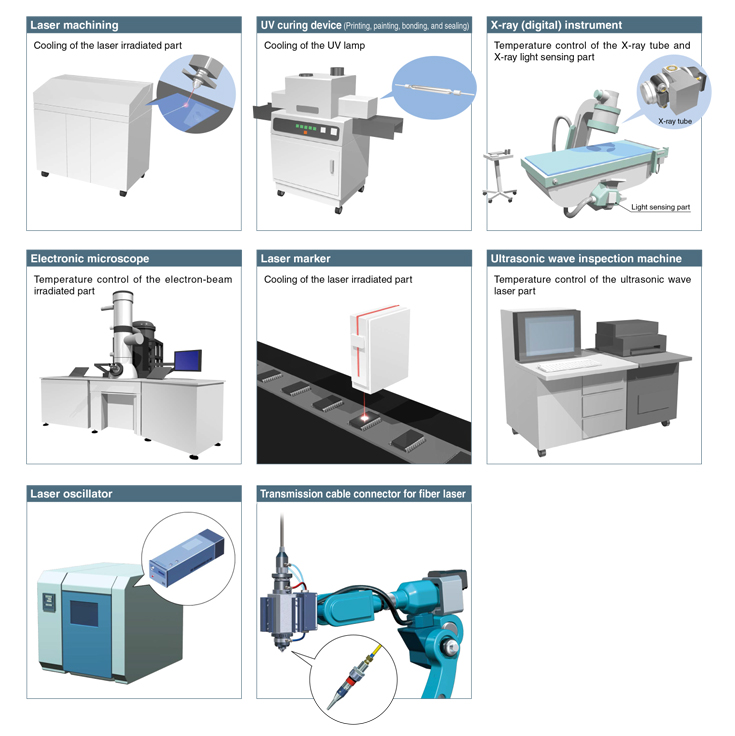 ■Global Supply Network

■Circulating Fluid/Facility Water Line Equipment