-
New Products
Product Information » New Products Category

|

Electric Actuators

NEW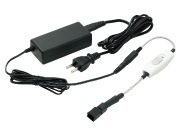 Lock Release Unit/Electric Actuator
With Lock For the LE□ Series
LE-ML-P-X117
2020/3
Lock release is only possible with 100 VAC power supply.
Wiring is not required between the actuator and the controller.
For 100 VAC power supply only

NEW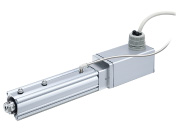 Dust-tight/Immersion-proof (IP67 Equivalent)
Electric Actuator/Rod Type
LEY-X7 Series
Updated Mar-20
Enclosure: IP67 equivalent
Max. stroke: 500 mm (For sizes 32 and 40)

NEW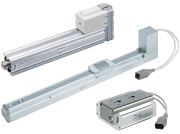 Battery-less
Absolute Encoder Type
Electric Actuators
LE□ Series
Updated Mar-20
Restart from the last stop position is possible.
Easy operation restart after recovery of the power supply
The position information is held by the encoder even when the power supply is turned off.
A return to origin operation is not necessary when the power supply is recovered.
No battery is installed. Reduced maintenance
No battery is used to store the position information.
There is no need to manage spare batteries or replacement maintenance.

NEW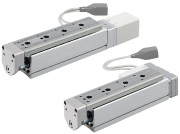 High Precision Type
Electric Slide Table/
Ball Screw Drive
LESYH16-X171
Updated Mar-20
Positioning repeatability
 ±0.01 mm Due to the adoption of a ball screw drive
Lost motion: 0.1 mm or less
Increased vertical work load: 6 times (2 kg → 12 kg)
Battery-less absolute encoder compatible

NEW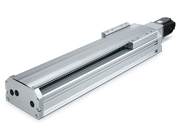 Electric Actuator/High Rigidity Slider Type
Ball Screw Drive
LEJS100-X400 Series
Updated Feb-20
Motor output: Supports 750 W
Work load (Speed: 500 mm/s, Lead: 10 mm)
 Horizontal: 400kg, Vertical: 80kg
Speed (Stroke: 500 mm, Lead: 50 mm)
 Horizontal/Vertical: 2300 mm/s
Max. acceleration/deceleration: 9800 mm/s2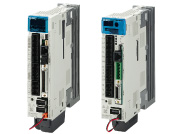 AC Servo Motor Driver
LECSB-T/LECSC-T Series
Updated Dec-19
LECSB-T Series (Pulse Input Type/Positioning Type)
Positioning by up to 255 point tables
Input type: Pulse input (Sink (NPN) type interface)
LECSC-T Series (CC-Link direct input type)
Position data/speed data setting and operation start/stop
Positioning by up to 255 point tables (when 2 stations are occupied)
Up to 32 drivers can be connected (when 2 stations are occupied) with CC-Link communication.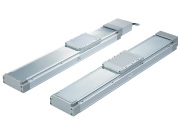 Built-in Intermediate Supports
Electric Actuator: High Rigidity Slider Type
Ball Screw Drive
LEJS63□-□M Series
Updated Oct-19
A maximum speed of 1,800 mm/s1 has been achieved
throughout the entire stroke!
The use of intermediate supports results in reduced
deflection of the ball screw when a long stroke is used.
Max. stroke: 1,790 mm
Horizontal work load: 85 kg (For the 10 mm lead)
Positioning repeatability: ±0.01 mm (High-precision type)


see Catalog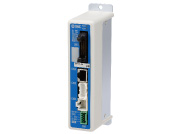 Step Motor Controller with
Step Data Teaching Function
LECP6-XB 120
Updated Mar-19
Neither a PC nor a teaching box is required
for adjusting the position of step data.
With a JOG function for parallel input signals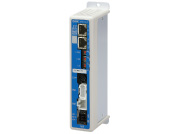 Step Motor Controller
JXCE1/91/P1/D1/L1 Series
Updated Mar-18
Communication protocol
EtherCAT®, EtherNet/IP™, PROFINET, DeviceNet™,
IO-Link

[New]

Two types of operation command
Numerical monitoring available
Transition wiring of communication cables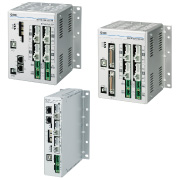 Multi-Axis Step Motor Controller
JXC73/83/92/93 Series
Updated Aug-17
EtherNet/IP™ type added

[New]

Linear/circular interpolation
Positioning/pushing operation
Absolute/relative position coordinates instructions
Step data input (Max. 2048 points)
Space saving, Reduced wiring
Speed tuning control