Pneumatic Equipment for Food Industry ⁄ Process ⁄ Theme
Environmental Resistance Stainless Steel
Products Category
Stainless Steel Cylinder CJ5-S/CDJ5-S/CG5-S/CDG5-S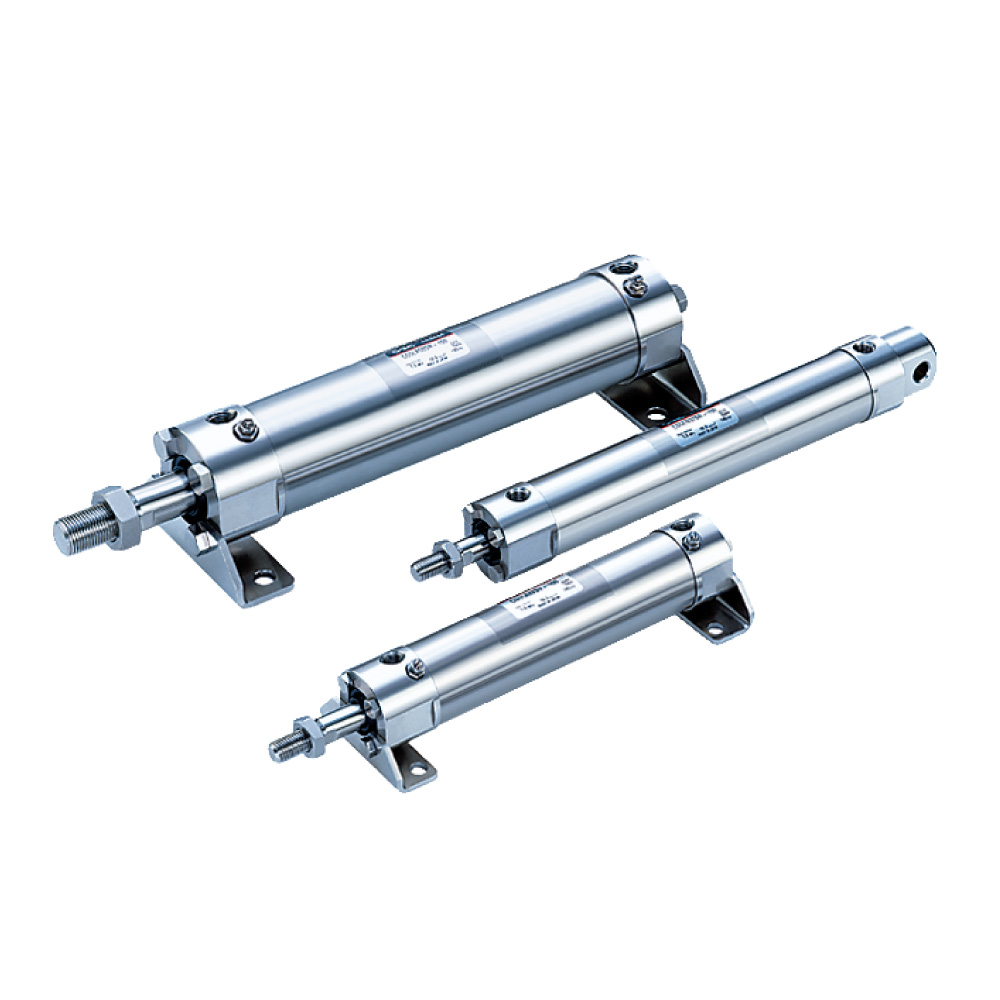 ・Applicable for use in an environment with water splashing
・With auto switch (CDJ5-S series: CDJ5-S, CDG5-S series: CDG5-S)
2D/3D CAD

The new SMC CAD SYSTEM, CADENAS, allows you to output 2D/3D CAD data with full part numbers in various data formats. Responses to part number selection has been greatly improved with the newly developed system.

Click here for 2D/3D CAD

Stainless Steel Cylinder CJ5-S/CDJ5-S/CG5-S/CDG5-S

Manual

| Type | Series | Action | Bore size (mm) | View search result |
| --- | --- | --- | --- | --- |
| Standard | CJ5-S | Double acting, Single rod | 10,16 | View search result |
| Standard | CG5-S | Double acting, Single rod | 20,25,32,40,50,63,80,100 | View search result |
| Standard | CG5-S | Double acting, Double rod | 20,25,32,40,50,63,80,100 | View search result |

Stainless Steel Cylinder CJ5-S-CDJ5-S-CG5-S-CDG5-S-E

Air Cylinder Simple Specials

| Symbol | Specifications | Download |
| --- | --- | --- |
| -XA0 to XA30Simple Specials | Change of rod end shape | PDF |

Stainless Steel Cylinder CJ5-S-CDJ5-S-CG5-S-CDG5-S-E

Air Cylinder Made to Order Common Specifications

| Symbol | Specifications | Download |
| --- | --- | --- |
| -XB6Made to Order Common Specifications | Heat resistant cylinder (-10 to 150℃) | PDF |
| Type | Series | Action | Bore size (mm) |
| --- | --- | --- | --- |
| Standard | CJ5-S | Double acting, Single rod | 10,16 |
| Standard | CG5-S | Double acting, Single rod | 20,25,32,40,50,63,80,100 |
| Standard | CG5-S | Double acting, Double rod | 20,25,32,40,50,63,80,100 |
Made to Order
Applicable for use under environments with water splashing. Stainless steel parts improve corrosion resistance.
■Made of Stainless Steel: -XC6
Suitable for the cases it is likely to generate rust by being immersed in the water and corrosion.
<Applicable Series>
CM2/CG1-Z/MB※2/MB1-Z※2/CA2-Z※1.2/CS1※2/CQS/CQ2/CV/MGP-Z/MGP/MGG/MGC/CXS/CXSJ/RHC Series

※1: Only head end lock is available for the CBA2
※2: There is a maximum stroke limit for CA2, MB, MB1 (ø100) and CS1 cylinders.
※3: The CS2 series, made of stainless steel, is applicable as -XC68.
The CA2-Z, MB-Z and MB1-Z series are applicable as -XC68. (-XC6 for ø125)

■Tie-rod, Cushion Valve, Tie-rod Nut, etc. Made of Stainless Steel: -XC7
When using in locations where the rust generation or corrosion likelihood exists,
the standard parts material have been partly changed to the stainless steel.
<Applicable Series>
MB-Z/MB1-Z/CA2-Z/CA2/CV Series

■Double Clevis and Double Knuckle Joint Pins Made of Stainless Steel: -XC27
To prevent the oscillating portion of the double clevis or the double knuckle joint from rusting, the material of the pin and the retaining ring has been changed to stainless steel
<Applicable Series>
CM2/MB-Z/MB1-Z/CA2-Z/CS1/CS2/CV/CG1/CQS/CQ2 Series

Specialized Products

External Stainless Steel Compact Guide Cylinder
MGPM□-X2532
Stainless steel is used for all external metal parts
Improved corrosion resistance in environments exposed to water
Food grade grease (certified by NSF-H1) is used.
Laser marking (Cylinder plate)