-
Global Network



Adobe Flash Player(v16 or later) is required to view the catalog.

How to use Digital Catalog

Turkey
SMC TURKEY OTOMASYON ANONİM ŞİRKETİ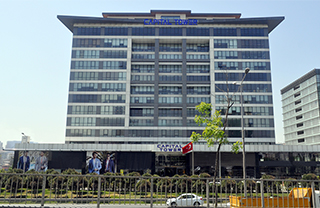 SMC TURKEY OTOMASYON ANONİM ŞİRKETİ
Halkalı Merkez Mah, Basın Ekspres Cad,
Capital Tower No:9 Kat:11, 34303,
Küçükçekmece / İstanbul, Turkey
Phone: +90-212-489-0-440 /
+90-212-472-52-52
Fax: +90-212-489-0-437
e-mail: satis@smcpnomatik.com.tr
URL: http://www.smcpnomatik.com.tr
| | |
| --- | --- |
| Number of employees | Approx. 60 |
| Commercial manager | Turgay UÇAR |
SMC products were introduced to the Turkish market by our distributor in 1993. Then, along with the expansion of the Turkish economy, SMC Pnömatik Sanayi Ticaret ve Servis A.Ş. was established in 2010.
With its headquarters located 5 km from the Istanbul Ataturk Airport, SMC Turkey has created a distribution network of three sales offices and ten sales outlets in various locations throughout the nation.
SMC Turkey assembles valve manifolds, FRL combinations, and cylinders according to the requests of their customers.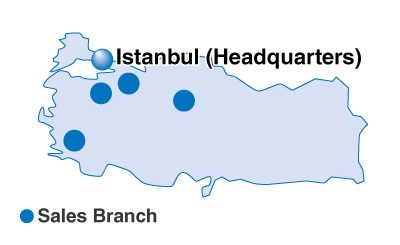 Kurtkoy Branch
Yenisehir Mah, Osmanli Blv. Sunbul Sok.
Ekinci Residence No: 8 A Blok Daire:
3-4 Kurtkoy Pendik/ Istanbul, Turkey
Phone: +90-216-639-40-38
Fax: +90-216-639-40-37

地図を表示
Bursa Branch
Odunluk Mh.Akademi Cd. Zeno Centre Is Merkezi
No 2-C Kat:7 Ofis 32 16110 Nilufer / Bursa, Turkey
Phone: +90-224-451-54-36
Fax: +90-224-451-54-35

地図を表示
Ankara Branch
Mustafa Kemal Mahallesi 2158. Sokak Duru Plaza
No:3/9 06520 Cankaya / Ankara, Turkey
Phone: +90-312-219-78-37
Fax: +90-312-219-67-29

地図を表示