-
Global Network



Adobe Flash Player(v16 or later) is required to view the catalog.

How to use Digital Catalog

Russia
SMC Pneumatik LLC.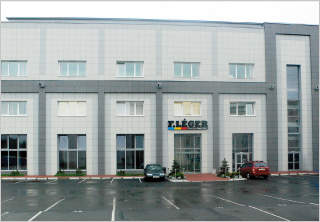 SMC Pneumatik LLC.
Business center, building 3, 15 Kondratjevskij prospect, St.Petersburg, Russia, 195197
Phone: +7-(812) 303-6600
Fax: +7-(812) 303-6601
e-mail:sales@smcru.com
URLhttp://www.smc-pneumatik.ru/
| | |
| --- | --- |
| Number of employees | Approx. 200 |
| General manager | Alexej Kourychev |
SMC Pneumatik LLC. was founded in St. Petersburg in 1996.
In addition to the business activities in their homeland of Russia, they have also developed business by setting a subsidiary company in Kazakhstan and dealerships in Ukraine and Belarus.
The head office comprises a large warehouse, technical and marketing centres, and a training centre with modern facilities.
The foundation of SMC Russia was followed by the opening of a branch in the capital city of Moscow to expand business operations toward the regions of Volga and Siberia. Now an extensive network of sales offices and distributors through which highly qualified and skillful engineers support customers encompasses all the major industrial areas of Russia.

SMC Russia assembles special order products in response to customers' requests, as well as supplies more simple special orders including F.R.L. and valve manifolds.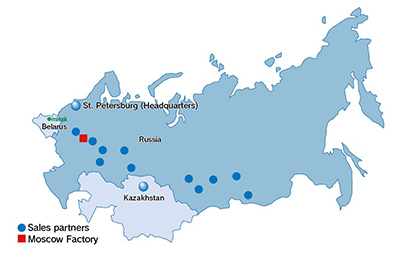 ロシア国内の営業所
Branches in Russia
Moscow Branch
Office 104, "Serpukhovskoj dvor"
Business center, 5-3 Vavilova street,
Moscow 119334, Russia
Phone: +7-(495) 258-4001
Fax: +7-(495) 258-4002

Nizhny Novgorod Branch
3, Teatralnaya pl.,
N. Novgorod 603005, Russia
Phone: +7-(831) 419-3855
Fax: +7-(831) 419-3855

Samara Branch
Office 614, 86, Partizanskaja str.,
Samara 443070, Russia
Phone: +7-(846) 373-1523
Fax: +7-(846) 373-1523

Chelyabinsk Branch
6-a lgnatiy Vandyshev str.,
Chelyabinsk 454021, Russia
Phone: +7-(351) 247-2404
Fax: +7-(351) 247-2405

Krasnoyarsk Branch
Office 708, 14-b, Borisova str.,
Krasnoyarsk 660074, Russia
Phone: +7-(391) 205-2075
Fax: +7-(391) 205-2075

Irkutsk Branch
Office 11, 2A, Rabochaya str.,
Irkutsk, 664011, Russia
Phone: +7-(3952) 33-4626
Fax: +7-(3952) 34-2631

Perm Branch
Office 302, 2a Plekhanova str.,
Perm 614068, Russia
Phone: +7-(342) 240-3757
Fax: +7-(342) 240-3757

Novokuznetsk Branch
Office 255, 13, Ordzhonikidze str.,
Novokuznetsk 654005, Russia
Phone: +7-(3843) 39-0560
Fax: +7-(3843) 39-0560

Bratsk Branch
Office 216, 32 Deputatskaya str.,
Bratsk 665726, Russia
Phone: +7-(3953) 30-1249
Fax: +7-(3953) 30-1249

Naberezhnye Chelny Branch
Office 204, 140, Moskovskij pr.,
Naberezhnye Chelny, Rep. Tatarstan 423827,
Russia
Phone: +7-(8552) 59-9581
Fax: +7-(8552) 59-9581

Novosibirsk Branch
Office 437, 177, Bolshevistskaja str.,
Novosibirsk 630083, Russia
Phone: +7-(383) 227-7567
Fax: +7-(383) 227-7567

Kaluga Branch
Office 205-1, 2A Barrika
Per., Kaluga 248016, Russia
Phone: +7-(4842)90-512
Fax: +7-(4842)90-0512