-
Global Network



Adobe Flash Player(v16 or later) is required to view the catalog.

How to use Digital Catalog

Sweden
SMC Automation AB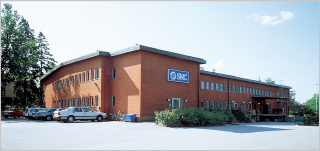 SMC Automation AB
Ekhagsvägen 29–31, SE-141 71 Segeltorp, Sweden
Phone: +46-8-603-12-00
e-mail:post@smc.nu
URLhttp://www.smc.nu
Number of employees
Approx. 80
Managing Director
Torbjörn Lundberg
General Manager
Mikael Andersson
Head office /
Factory building
Land area:4,771m2
Floor space:3,200m2
ISO certification
ISO 9002
SMC Automation AB was established in 1986.
The head office, with its sales and training departments and a warehouse with an inventory of over 7,000 products is located in the suburbs of Stockholm.
In the factory, standard cylinders and valve manifolds are assembled.
SMC Sweden also has sales branches in Göthenburg, Lund and Växjö that together with their distributors form an extensive sales network that thoroughly supports customers across the nation.