-
Global Network



Adobe Flash Player(v16 or later) is required to view the catalog.

How to use Digital Catalog

Czech Republic
SMC Industrial Automation CZ s.r.o.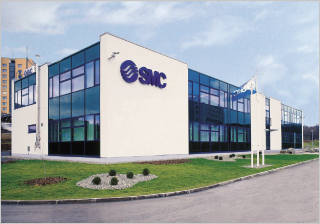 SMC Industrial Automation CZ s.r.o.
Hudcova 78a, CZ-61200 Brno, Czech Republic
Phone: +420-5-414-24611
Fax: +420-5-412-18034
e-mail: sales@smc.cz
URL http://www.smc.cz
Managing Director
Robert Angel
Head office building
Land area:6,640m2
Floor space:1,700m2
SMC Industrial Automation CZ s.r.o. was founded as a subsidiary of SMC Austria.
In response to all kinds of customer demands, local engineers are providing customers with technical support and helping customer services and sales.
Among their sales activities is the provision of technical information, training and catalogs (both paper-based and electronic).
SMC Industrial Automation CZ's comprehensive warehouse facilitates the smooth delivery of products to their customers.
The CEE Training Center also located in Brno offers high-level training courses for customers to keep them abreast of the latest trends in industrial automation and up to date technological developments.