-
Global Network



Adobe Flash Player(v16 or later) is required to view the catalog.

How to use Digital Catalog

Austria
SMC Pneumatik GmbH (Austria)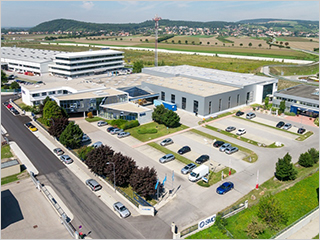 SMC Pneumatik GmbH (Austria)
Girakstrasse 8, AT-2100 Korneuburg, Austria
Phone: +43-2262-62-280
Fax: +43-2262-62-285
e-mail: sales@smc.at
URL http://www.smc.at
Number of employees
more than 200 (Austria)
more than 400 (others)
Managing Director
Robert Angel
SMC in Austria started operations in 1985, in 1990 SMC Pneumatik GmbH (Austria) was founded. In addition to the business activities in their homeland of Austria, they also support SMC operations in the Czech Republic, Hungary, Poland, Slovakia, Slovenia, Bulgaria, and Croatia. With the assistance of distributors, they conduct business also in Bosnia-Herzegovina, Serbia, Ukraine, Albania and Macedonia. At the Technology Center, which supports operations across Central and Eastern Europe (CEE), experienced engineers respond to customers' requirement, and share the latest information on product development and the like through the technical information network. The warehouse in Korneuburg serves as the logistic hub for Central and Eastern Europe. SMC Austria provides deliveries of a standard product within 24 hours and manages the warehouses of subsidiaries in neighboring countries. There are production lines to meet various customers' needs for special order products.