-
Global Network



Adobe Flash Player(v16 or later) is required to view the catalog.

How to use Digital Catalog

France
SMC France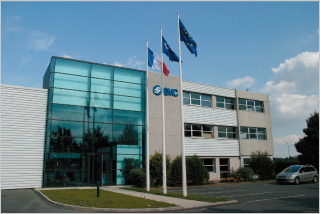 SMC France
1, Boulevard de Strasbourg, Parc Gustave Eiffel Bussy Saint Georges F-77607 Marne La Vallee Cedex 3, France
Phone: +33-1-6476 1000
Fax: +33-1-6476 1010
e-mail: promotion@smc-france.fr
URL http://www.smc-france.fr
Number of employees
Approx. 200
General manager
German Berakoetxea
Head office /
Factory building
Land area:13,599m2
Floor space:8,344m2
In 1988, SMC Pneumatique, S.A. was founded in Marne-La-Vallee, a new city in Bussy-Saint-Georges located east of Paris.
In addition to the sales and administration departments in the head office, there are four specialized departments, namely, the Manufacturing, Logistics, Project, Management. Operations are further augmented by 44 distributors.
Through this extensive sales network, SMC France delivers excellent products, services and technical support to customers.
To meet customer demands, the manufacturing department produces and assembles cylinders, simple special order products, and valve manifolds. Cylinders compliant with the European CETOP standard are also produced.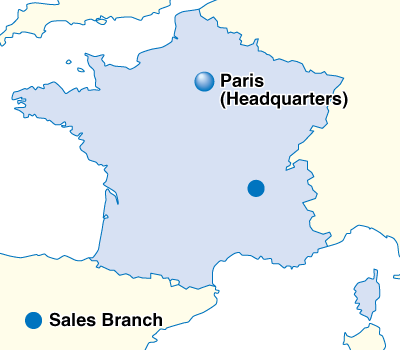 Main Production Series
C85, C75, CP95, C95, CQ, MGP
Valve manifold assembly, Guide unit, F.R.L. combination, Panel, Cabinet.
Main Inventory Series
Directional Control Equipment
EVS, EX, LVM, SY, SYJ, VP, VQ, VQC, VS7, VT, VX
Actuators
C55, C75, C76, C85, C95, C96, CG1, CG5, CJ1, CJ5, CK, CP96, CQ2, D-, MGP
Electric Actuators and Cylinders
LEC, LEF
Modular F.R.L. /
Air Preparation equipment
AC, AD, AF, AFD, AFM, AL, AR, ARB, AV, AW, G, GP46, IP, IR
Fittings and Tubings /
Flow control equipment
AS, ASP, AN, KQ2, KS, TIA
Vacuum equipment
ZSE
Electric equipment
IS, ISE, PFM
Others
VMG
∗ In addition to the above main stock series, they also carry other stock in response to the requirement of their customers.