-
WEB Catalog
My List
My List Guide


Product List
Subject ⁄ Industry Classified Products
Adobe Flash Player(v16 or later) is required to view the catalog.


Thermo-chiller/Basic Type
HRSE
・Complete with energy-saving triple control!
 Reduces power consumption by 33%
・Compact and lightweight: 32 kg (100 VAC)
・Maintenance-free: Magnet pump
・Low-noise design: 55 dB (A)
Series
Set temperature
range
Cooling
capacity
Temperature
stability
Cooling method
Circulating liquid

HRSE

10 to 30℃

1.2 kW
1.6 kW
2.2 kW
(60 Hz)

±2.0℃

Air-cooled refrigeration

Tap water
Ethylene glycol aqueous solution (15%)
Thermo-chiller/Basic TypeHRSE

■Large energy saving by triple control!
Compressor, fan and electronic control valve can be controlled depending on the heat load from the user's equipment.
Power consumption reduced by 33%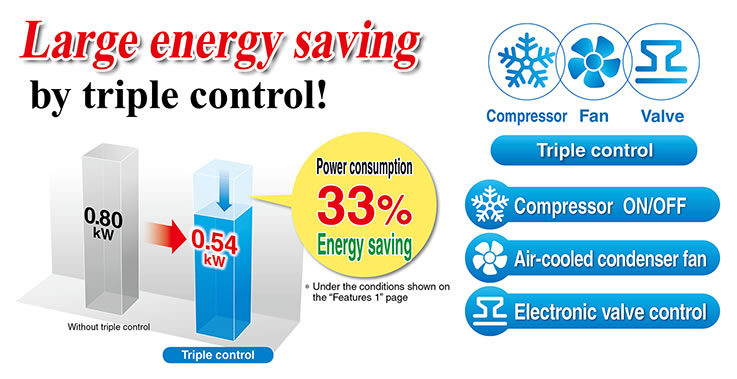 Circuit diagram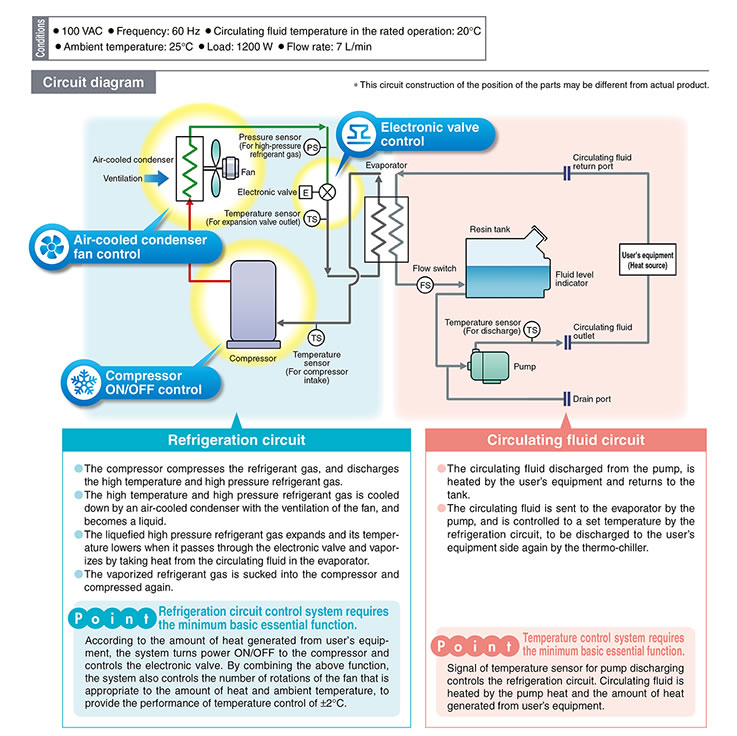 ■Compact/Lightweight 32 kg(100 VAC)
■Cooling capacity 1.2, 1.6, 2.2 kW
■Max. ambient temperature 40°C (200 VAC)
■Set temperature range 10 to 30°C
■Temperature stability ±2.0°C
■Maintenance free Magnet pump
■Low-noise design 55 dB (A)
■Power supply 100/200 VAC 50/60 Hz
 [New]230 VAC (50/60 Hz)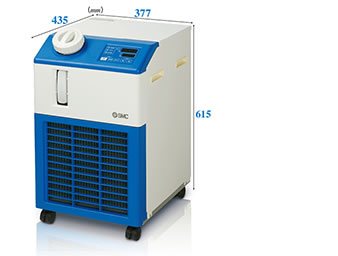 ■Simple function and performance. Thermo-chiller of the basic type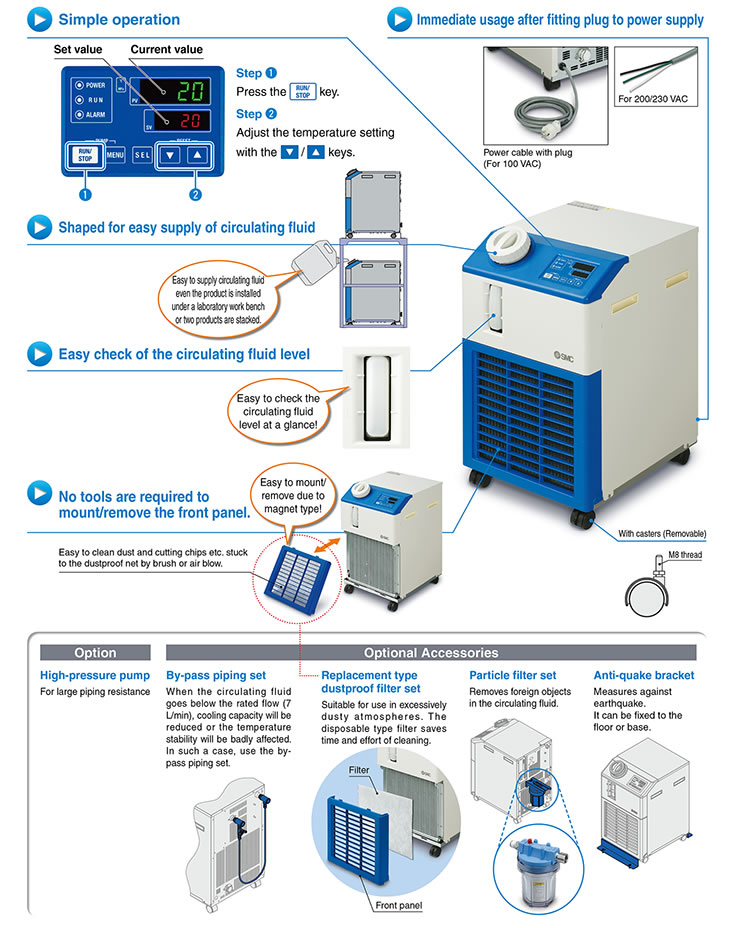 ■Application Examples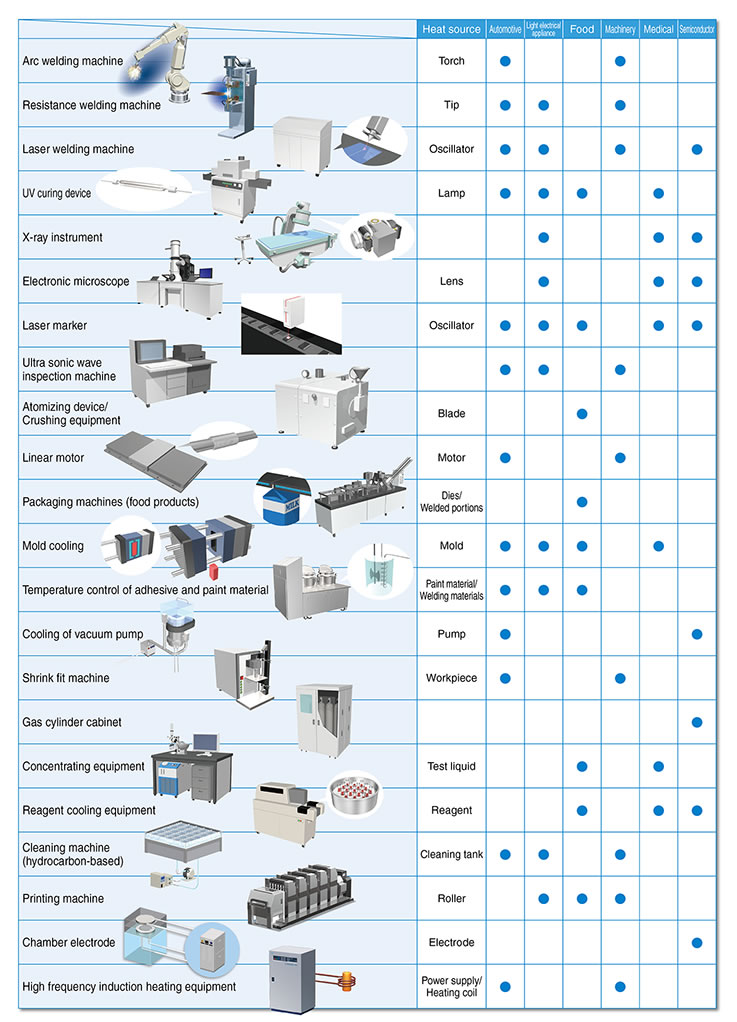 ■Circulating Fluid Line Equipment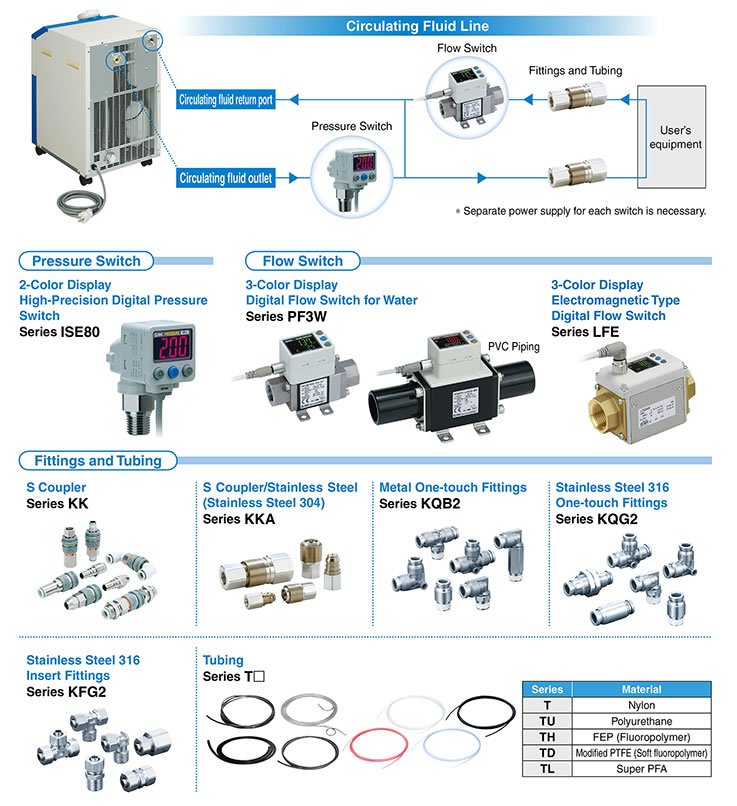 ▲Page top