-
WEB Catalog
My List
My List Guide


Product List
Subject ⁄ Industry Classified Products
Adobe Flash Player(v16 or later) is required to view the catalog.


Thermo-chiller/Standard Type
HRS090
・Lightweight and compact
・Cooling capacity: 9 kW
・Temperature stability: ±0.5°C
・Set temperature range: 5 to 35°C
・Max. ambient temperature: 45°C
・Power supply: 3-phase 200 to 230 VAC, 380 to 415 VAC
Series
Set temperature
range
Cooling
capacity
Temperature
stability
Cooling method
Circulating liquid

HRS090

5 to 35°C

9kW (60Hz)

±0.5°C

Air-cooled refrigeration/
Water-cooled refrigeration
Tap water,
Deionized water,
Ethylene glycol aqueous solution (15%)
Thermo-chiller/Standard TypeHRS090

■Lightweight and Compact Weight 136 kg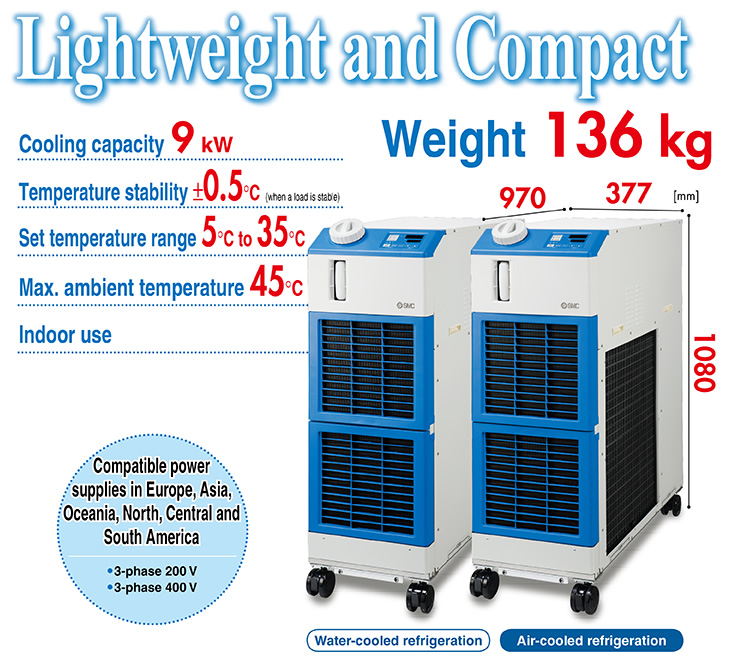 The precision temperature control method by expansion valve and temperature sensor, realized high temperature stability of ±0.5°C and a small-size tank.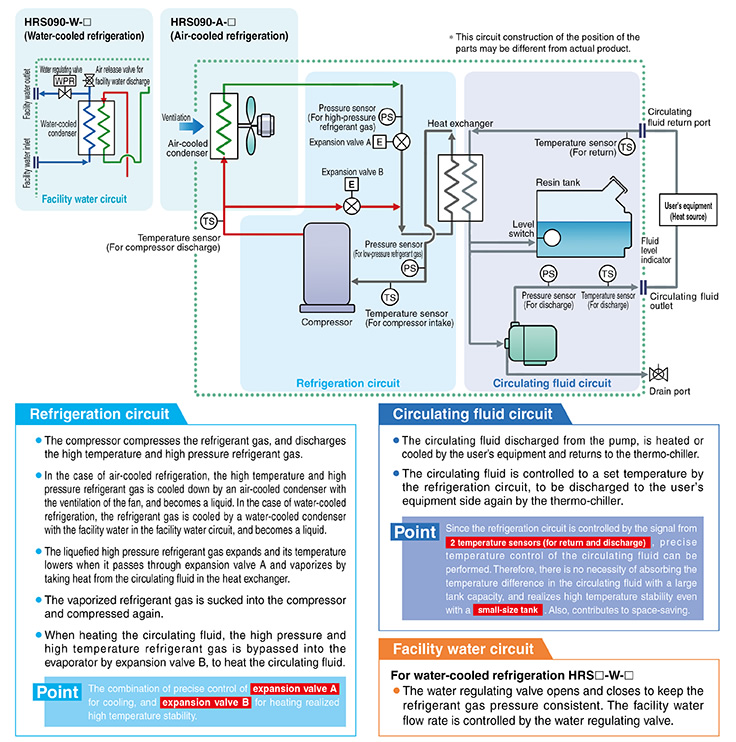 Reduced-height double condenser structure

■With heating function

■Easy maintenance and operation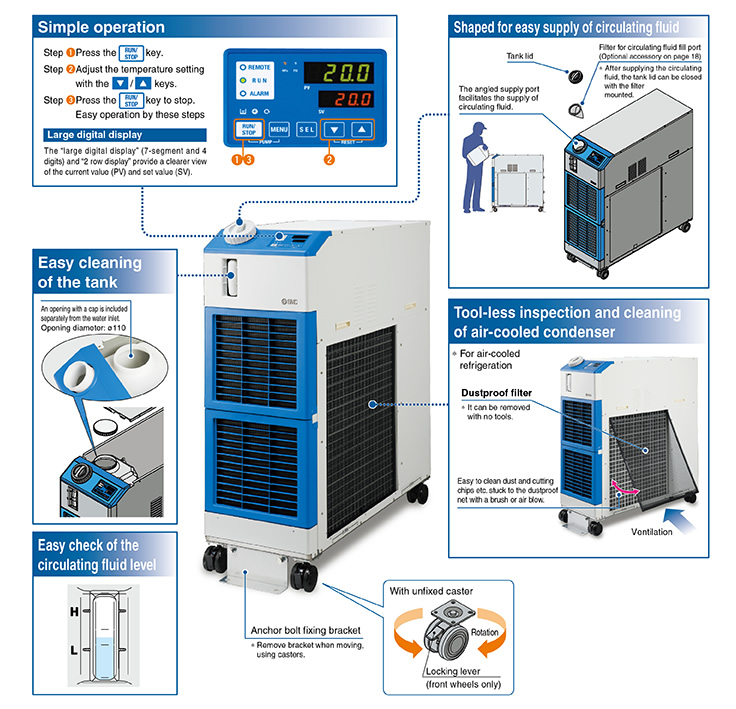 ■Globally compatible power supplies
Europe, Asia, Oceania, Central and South America: Only 400 VAC type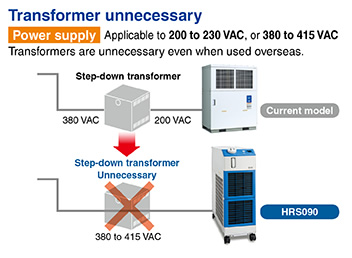 ■Convenient functions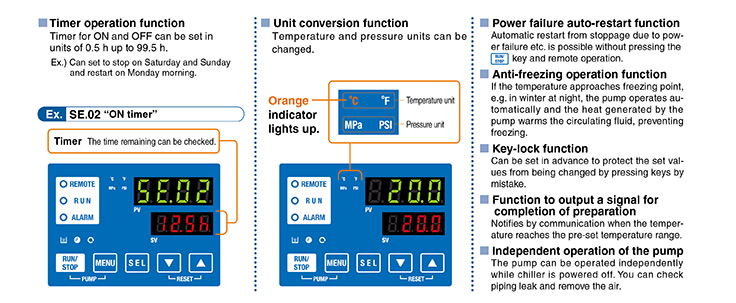 ■Self diagnosis function and check display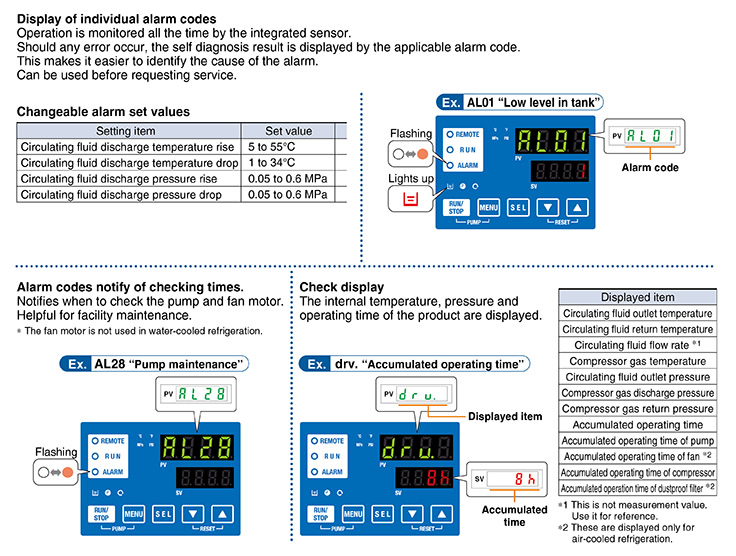 ■Communication function
The serial communication (RS232C/RS485) and contact I/Os (2 inputs and 3 outputs) are equipped as standard. Communication with the user's equipment and system construction are possible, depending on the application.
A 24 VDC output can be also provided, and is available for a flow switch (SMC's PF2W etc.).

■SMC Thermo-chiller Variations
Lots of variations are available in response to the users' requirements.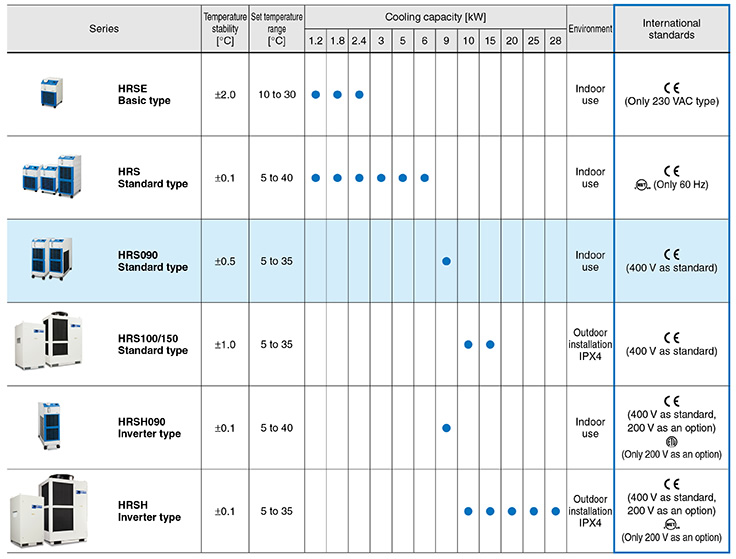 ▲Page top