-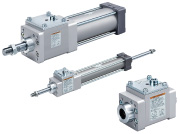 Cylinder with Lock
φ32, φ40, φ50, φ63
MWB Series
Updated Oct-16
Lock can be manually operated with a hexagon wrench.
Easily mounted onto equipment
Separate construction for improved ease of maintenance
Holding force improved by 14%
High stopping accuracy within ±1 mm
Overall length reduced by 13 mm max.


See Catalogs
Product Features
A locking cylinder ideal for intermediate stops,
emergency stops and drop prevention
■Separate construction for improved
ease of maintenance
Maintenance made easy due to separate construction of lock unit and cylinder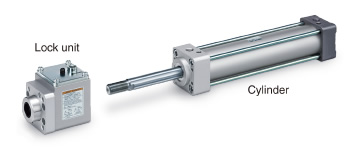 ■Part numbers with rod end bracket and/or pivot bracket available
Not necessary to order a bracket for the applicable cylinder separately
* Rod end bracket and pivot bracket are shipped together with the product, but not assembled.

■Series Variations