|

Electric Actuators

Step Motor Controller
JXCE1/91/P1/D1/L1 Series
Updated Mar-18
Communication protocol
EtherCAT®, EtherNet/IP™, PROFINET, DeviceNet™,
IO-Link

[New]

Two types of operation command
Numerical monitoring available
Transition wiring of communication cables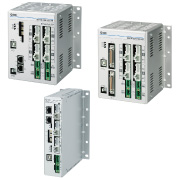 Multi-Axis Step Motor Controller
JXC73/83/92/93 Series
Updated Aug-17
EtherNet/IP™ type added

[New]

Linear/circular interpolation
Positioning/pushing operation
Absolute/relative position coordinates instructions
Step data input (Max. 2048 points)
Space saving, Reduced wiring
Speed tuning control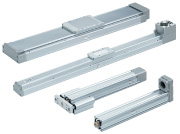 Motorless Type
Electric Actuators
Series LE□
Updated Jan-16
Your motor and driver can be used together!
Added a compatible motor manufacturer.

[New]


ORIENTAL MOTOR Co., Ltd., Delta Electronics, Inc.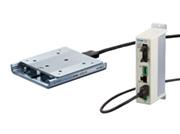 Card Motor
Series LAT3
Updated Jan-16
Maximum stroke 50 mm added

[New]

Maximum load mass doubled 0.5 kg→1 kg

[New]

Serial communication Modbus compatible

[New]

The transportation, pushing and length measurement systems have been miniaturized through the use of a linear motor.
Thickness 9 mm, Weight 130 g (at stroke 10 mm)
Positioning repeatability: ±5 μm
Pushing measurement accuracy: ±10 μm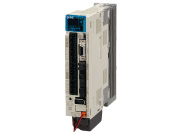 SSCNETⅢ/H Compatible
AC Servo Motor Driver
Series LECSS-T
Updated Jun-14
Applicable Fieldbus protocol:SSCNETⅢ/H
(High-speed optical communication, max. bidirectional communication speed:150 Mbps)
Bidirectional communication speed:3 times
Improved noise resistance
STO (Safe Torque Off) safety function available
Control encoder:Absolute 22-bit encoder (Resolution:4194304 p/rev)
Power supply voltage (V):200 to 240 VAC,Motor capacity (W):100/200/400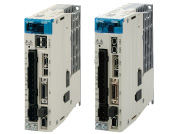 MECHATROLINK Compatible
AC Servo Motor Driver
Series LECYM/LECYU
Updated Jun-14
Position control, speed control and torque control can be used.
Control encoder:Absolute 20-bit encoder
(Resolution:1048576 p/rev)
Applicable Fieldbus protocol:MECHATROLINK-Ⅱ,MECHATROLINK-Ⅲ
Power supply voltage (V):200 to 230 VAC,Motor capacity (W):100/200/400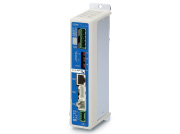 CC-Link Direct Input Type
Step Motor Controller
Series LECPMJ
Updated Dec-13
External data import function
CC-Link Ver. 1.10 compliant
The position and speed can be monitored by the PLC.
Step data can be edited from the PLC.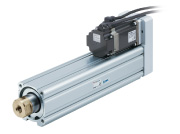 Electric Actuator/Rod Type
Size: 63
Series LEY
Updated Dec-13
Motor mounting position can be selected from 4 directions!
Max. work load: Horizontal 200 kg, Vertical 115 kg
Max. pushing force: 3343 (N)
Max. speed: 1000 mm/s
dust/drip proof specification: Equivalent to IP65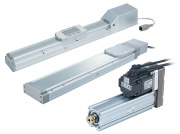 Series Compatible with Secondary Batteries
Electric Actuators
Series 25A-LEFS/LEJS/LEY
Updated Sep-13
Copper (Cu) and Zinc (Zn) Free*
* Except motors, cables, controllers/drivers
Compatible with a low dew point -70°C
Using grease compatible with a low dew point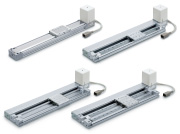 Electric Actuator
Low Profile Slider type
Series LEM
Updated Aug-13
Compact, Low Profile
Table height: 28mm (for LEMC/H/HT, size 25)
Guide mechanism can be selected.
Basic type, Cam follower guide tpe, Linear guide single axis type, Linear guide double axis type
Selectable controllability (Controller)
End to end operation similar to an air cylinder (12 intermediate stop positions)
Easy position setting using numerical inputs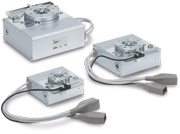 Electric Rotary Table
Continuous Rotation Specification
Series LER
Updated Jun-13
Rotation angle: 360°
Shock-less/High speed actuation
Positioning repeatability: ±0.05°
Possible to set speed, acceleration/deceleration,and position. Max. 64 points
Energy-saving product: Automatic 40% power reduction after thetable has stopped.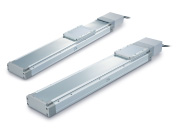 Electric Actuator/
High Rigidity Slider Type
Series 11-LEJS
Updated May-13
Clean Room Specification
ISO Class 4 (Class 10) !
Built-in vacuum piping
Possible to mount the main body without removing the external cover, etc.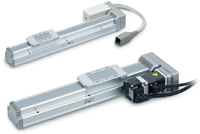 Electric Actuator/Slider Type
Motor Parallel Type
Series LEFS
Updated May-13
Reduced in overall length : MAX.102.6mm
Reduced in height : MAX.16mm
Top surface of table and motor are level.
Temperature stability : ±0.1℃ (Stable load)
Motor mounting position can be selected from two directions.