-


|

Air Preparation Equipment

NEW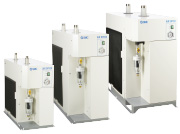 For Use in Southeast Asia
Refrigerated Air Dryer
IDFC□ Series
Updated Dec-17
The IDFC80 and IDFC90 series have been added!

[New]

Applicable for the high-temperature environments of tropical regions
Can be used in high-temperature environments
Ambient temperature : Max. 45℃
Inlet air temperature : Max. 65℃
Dew point range : 3℃ to 20℃
Air flow capacity : 9.2 m3/min (52% increase compared to the current model)
Power supply voltage : Single-phase 230 VAC (50 Hz)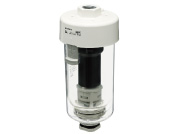 Auto Drain Valve
AD402-A Series
Updated May-17
Higher resistance to foreign matter
Increase in condensate discharge
Drain discharge: Max.100 cm3/cycle (3 times compared with the current model)
Better environmental resistance: Transparent bowl guard can protect the inner bowl!
Better visibility: 360°
reduced the weight by 22%
Reduced required maintenance space
Easier maintenance
One-touch mounting and removal of the bowl is possible without using a tool.
Bowl material can be selected according to the operating environments.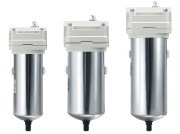 Main Line Filter
AFF Series
Updated Feb-17
Increase in an air flow capacity due to lower pressure drop contributing to energy saving
Flow capacity: 14.5 m3/min (ANR)
Increased by up to 20% compared with the current model
Pressure drop: 5 kPa or less
Lightweight: Max. 52% lighter (10.5kg→5.0kg)
Light body weight to thinner stainless steel bowl.
Space-saving design, Labor-saving in piping!
Water droplets and solid particles can be removed with just one AFF.
A separate filter for removing water droplets (water separator, AMG series) is not necessary any more. Space and piping work are reduced.
Easier replacement of the element
Stopper function prevents the bowl from falling.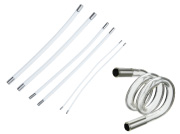 Moisture Control Tube
Series IDK
Updated Oct-15
Coil shape added.

[New]


Reduces tube buckling of moving part.
Prevents condensation in piping for small cylinders/air grippers.
Diffuses water vapor in the piping to the outside!
All you have to do is install the moisture control tube!!
Additional power supply and works are not necessary!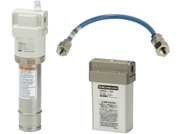 Membrane Air Dryer
Series IDG□A/IDG
Updated Nov-13
Possible to easily supply dry air using the hollow fiber membrane!
Non-fluorocarbon
Power supply not required
Compatible with low dew point (-60°C)
No vibration or heat discharge
With a dew point indicator