-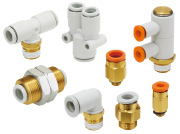 One-touch Fittings
Series KQ2
Updated Sep-16
Oval type release button added

[New]

Possible to use in vacuum to -100 kPa.
Improved tube insertion/removal
Insertion force: Max. 30% reduction
Removal force: Max. 20% reduction
Compact and lightweight
Dimensions height direction 24% shorter
Dimensions horizontal direction 23% shorter: Weight 57% lighter
Body type: totaled 51 models
Thread material/Surface treatment(Treated or Non-treated): 2 types
Selectable surface treatment: Brass(No plating), Brass + Electroless nickel plated


See Catalogs
Product Features
■Improved tube insertion/removal
Insertion force: Max. 30% reduction
Removal force: Max. 20% reduction*
*Tube pulling out strength is ensured to be equivalent to existing model.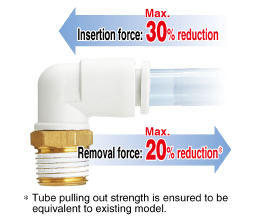 ■KQ, KQ2 and KJ consolidated into "KQ2"
Enhanced variation, Lightweight, Compact
■Selectable surface treatment
Brass (No plating)
Brass + Electroless nickel plated
■Face seal adopted for threading
Improved installability
(Reduced tool-tightening after hand-tightening)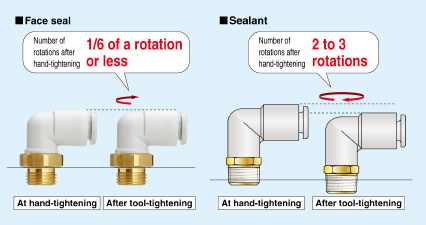 ■Height with multiple usage is uniform.

Prevention of sealant residue/protrusion
Existing sealant type leaves residue and protrudes out from the threading when installing, making it necessary to clear away the residue using an air blower or similar. However, no residue is created when using a face seal.

Re-piping is possible.
Face seal
Repeated re-piping some 6 to 10 times is possible due to use of elastic sealant on seating.
Sealant
Sealant tape is necessary because sealant becomes separated with repeated installation.
■Oval Type/Round Type Variations